Liz and I decided to ride to the Las Vegas Bikerfest biker rally last weekend. We rode to the rally on September 30, 2011 through October 2, 2011.
Below you can see 1 ½ hours of video I shot at the Las Vegas Bikerfest. Lots of interesting sites in the video.
We took off for the rally on Friday evening, September 30, 2011. We had a great ride to Las Vegas except for a few minor rain showers on the way.
The weather was warm and balmy all the way to Las Vegas.
We have gone to this biker rally before, and it was packed, so this is kind of what we were expecting when we got there.
We arrived at our hotel, The Palace Station at approximately 2am or so. The hotel was kind of dead when we arrived and notwithstanding the fact that we stayed off strip; I was really surprised to only see a few motorcycles parked at the hotel.
We gambled for a couple of hours and then hit the sack so we could get an early start for Saturday's festivities.
We woke up on Saturday, grabbed some excellent buffet food from the Palace Station, and proceeded to head to Vendor Village at the Cashman Center.
We had to pay $15.00 bucks a piece just to get in to see the vendors, because we did not pre-register for the event on the internet. I must say that I did try pre-registering for the event on the internet like I have done in past years, but for some inexplicable reason, they cut off pre-registration a few days before the event which makes no sense. Anyway……
I do not understand why we had to pay $15.00 a piece to see vendors who then charge you for what they are selling. At events like Laughlin and Reno, and other events all over the nation, the vendors are set up in a public place and there is no charge to basically shop the vendors.
One thing we noticed was the vendor village was basically dead compared to the other biker events we have gone to this year. I am not sure why the event did not seem to be as crowded this year. Don't get me wrong there were people there, just not as many as I have seen in past years.
I found a leather vendor who offered me a distressed heavy brown leather motorcycle jacket that I have seen in the biker stores before for around $400, for $60.00. The motorcycle jacket has all of the bells and whistles, armor in the elbows, vents, zip liner, etc. Although I already have a bunch of jackets, I could not resist. I pulled the trigger for $60.00.
I also scored some bandanas which I do not need, and a few other things.
We walked around inside and out, looked at the cool motorcycles in the Artistry in Iron exhibit, listened to the band outside, and then decided to split.
We went to downtown where all of the Saturday night events at the rally usually happen. There were lots of bikes, but again, not as many as in past years.
Downtown was very busy as you can see in the video, however, I remember in past years where you could barely walk through the crowd.
Downtown was a trip. They had a Led Zeppelin and AC/DC tribute bank going, along with another tribute band playing 80's glam rock.
Check out the video, it gives you a good idea what downtown was like.
There was a very heavy police presence at the event.
We walked around, listened to the bands, had a good time, and then split at around 2am to go back to the hotel.
The next day we went to a Las Vegas Biker shop that has the largest selection of leather items supposedly on the west coast. I picked up a few things there, and then we got on the road. Most biker rallies empty quickly on the last day.
We had a good time at the rally as usual, and a good ride home.
Next we have Palm Springs American Heat biker rally in two weeks………..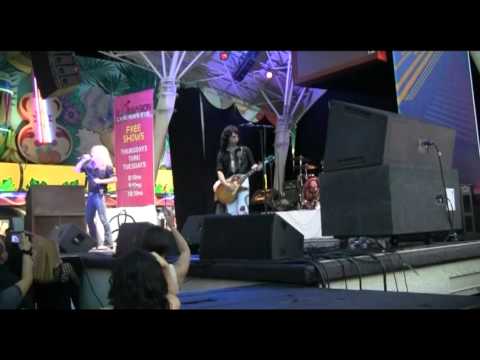 By California Motorcycle Accident Attorney, and Biker Lawyer, Norman Gregory Fernandez, Esq., © October 7, 2011