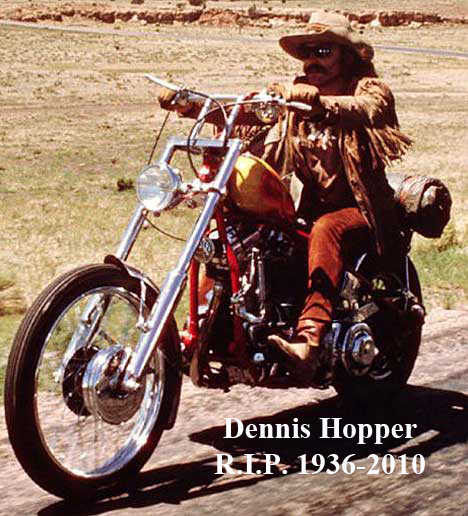 Dennis Hopper, the maverick director and costar of the landmark 1969 counterculture film classic "Easy Rider" whose drug- and alcohol-fueled reputation as a Hollywood bad boy preceded his return to sobriety and a career resurgence in the films " Hoosiers" and "Blue Velvet," died Saturday. He was 74.
A longtime resident of Venice, CA who also was known as a photographer, artist and collector of modern art, Hopper died at his home of complications from prostate cancer, said Alex Hitz, a friend of the family.
A frail-looking Hopper, whose battle with prostate cancer was revealed in October, was able to attend a ceremony for the unveiling of his star on the Hollywood Walk of Fame in late March.
In a more than five-decade acting career that was influenced early on by working with James Dean and studying at the Actors Studio, he made his film debut as one of the high school gang members who menace Dean in the 1955 classic "Rebel Without a Cause."
Hopper went on to appear in more than 115 films, including "Giant," "Cool Hand Luke," "Hang 'Em High," "True Grit," "Apocalypse Now," "The American Friend," "Rumble Fish," "Speed," "True Romance" and "Rivers Edge."
But it's his role as the long-haired, pot-smoking biker Billy opposite Peter Fonda's Wyatt (Captain America) in the hit movie "Easy Rider" that gave Hopper his most enduring claim to fame.
The low-budget tale of two bikers on an ultimately tragic cross-country odyssey after scoring a big cocaine sale, "Easy Rider" became a generational touchstone.
The movie, which boasted a star-making performance from a little-known Jack Nicholson as a boozy small-town lawyer who goes along for the ride and gets his first taste of marijuana, set old-guard Hollywood back on its heels.
"The impact of 'Easy Rider,' both on the filmmakers and the industry as a whole, was no less than seismic," Peter Biskind wrote in his 1998 book "Easy Riders, Raging Bulls: How the Sex-Drugs-And-Rock 'N' Roll Generation Saved Hollywood."
"Hopper was catapulted into the pantheon of countercultural celebrities that included John Lennon, Abbie Hoffman and Timothy Leary," Biskind wrote. "He was surrounded by groupies and acolytes. He may have started down the slippery slope to megalomania and grandiloquence on his own, but he had plenty of help."
"Easy Rider" won an award at the Cannes Film Festival for the best movie by a new director, and it earned co-writers Hopper, Fonda and Terry Southern an Oscar nomination.
"Hopper and Fonda were renegades, Hollywood-bashers, the Vietcong of Beverly Hills," Biskind wrote. "To them, it was vindication, beating Hollywood at its own game, proof that you could get high, express yourself and make money all at the same time."
Continue reading "Actor Dennis Hopper dies at 74; directed Motorcycle Classic Easy Rider"