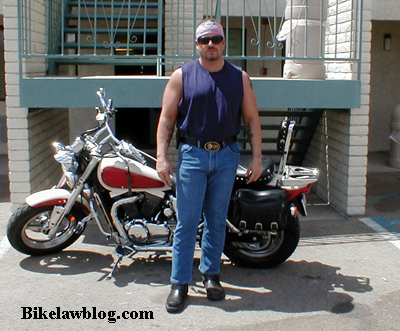 This is my first article of the New Year 2008. As I write this article California is enduring extraordinary rains which we are not accustomed to.
I was out yesterday riding my cage in the rain, and I saw a guy riding his motorcycle with normal street clothes on, tennis shoes, and a half helmet. I could not believe it. I would not ride in normal conditions wearing what this guy was wearing in a constant downpour of rain. He must have been soaked to the bone and very cold. Not good to say the least!
I have said many times in my articles that I do not ride my motorcycle in the rain unless I have no other choice. There have been many instances where I have been on the road and have had to ride through storms to get to my motel, or a safe place to wait out the rain.
Some of these instances of riding through the rain were severe, such as in Durango, Colorado, and in San Francisco, California. One time riding through the Arizona desert I literally ran into a thunderstorm out of no where that was so violent that it left welts on my face from hitting the rain at the speed I was riding at. Anyway…………..
If it is raining outside, it is probably a better idea to drive your car than ride your motorcycle. We have had a bad drought here in Southern California for the past couple of years, and when the rains come, the oils that have built up on the roads come to the surface of the road and make them slippery.
Since we only have two wheels on a motorcycle, a slippery road can mean disaster if your motorcycle slides out from under you.
Secondly, hydroplaning can make your ride a disaster as well. Hydroplaning occurs when water gets between your tires and the road surface. A layer of water builds between the rubber tires of the vehicle and the road surface, leading to the loss of traction and thus preventing the vehicle from responding to control inputs such as steering, braking or accelerating. It becomes, in effect, an un-powered and un-steered sled. Hydroplaning on a motorcycle with only 2 wheels in a heck of a lot different than in a car with 4 wheels, on a motorcycle it can mean disaster.
If you absolutely have to ride in the rain, my advice would be as follows:
(1) Wear full protective gear, including water proof boots, full face helmet, leather jacket, gloves, etc;
(2) Wear a good rain suit that is preferably designed for riding motorcycles in the rain;
(3) Do not accelerate or brake fast, take it easy;
(4) Leave plenty of room between you and the cars around you. Try to keep a very good distance between you and the cars or trucks in front of you because their spray will impact your visibility, and as you know on a motorcycle we do not have windshield wipers; and
(5) Take turns or curves very slowly and cautiously. It only takes a split second to eat asphalt if your motorcycle looses traction and goes out from under you.
Above all, do not ride beyond your comfort level. If it does not feel right, it probably is not right! In other words if you are riding in the rain, and you do not feel comfortable in the conditions, pull off and wait it out at a restaurant or some place like that if you can. I have been stuck in conditions which left me no choice but to ride or leave my motorcycle in the middle of no where. I chose to ride, but I rode cautiously!
One of my worst experiences was on the 101 freeway south of San Francisco when I got stuck in a torrential downpour at night. I did not have rain gear on, and the rain came out of no where. It was so bad that I could barley see anything and there were lots of cars doing 70mph plus. There was no safe place to stop or pull over. I had to ride it out. Luckily I made it to my hotel in one piece.
Do not let your friends or others assert peer pressure on you to ride your motorcycle in conditions which make you feel uncomfortable. I am not afraid to say "I do not ride in the rain unless I have to."
Take it easy out there folks. It is supposed to be raining for the next few days here in California. Cage it if you can.
By Norman Gregory Fernandez, © 2008