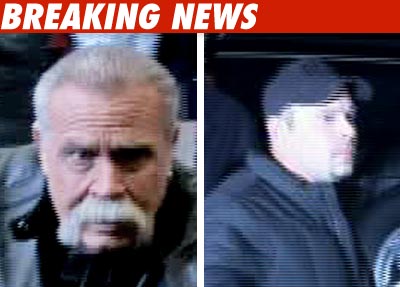 I am sure that many of you in the motorcycle world have watched the TV show American Chopper. American Chopper is a reality TV show about the company Orange County Choppers. Its stars are the infamous Teutul family; Paul Teutul Sr., his son Paul Jr., and of course Mikey.
Paul Teutul Sr. and Paul M. Teutul had a very public falling out, which was chronicled on American Chopper. In the Season 6 premiere, Paul Sr. and son had a contentious contract dispute, which led to Paul Jr.'s departure from the company. After a brief reconciliation, Paul Jr. left the OCC for good to explore other opportunities. In later episodes, Paul Jr. was seen working as a consultant at Orange County Choppers.
It has been reported that Paul Sr. sent a letter to Paul Jr. exercising an alleged right to purchase Paul Jr.'s share of the stock he owns in Orange County Choppers since Paul Jr. no longer works there.
Paul Teutul, Sr. claims he had a deal with his son, Paul M. Teutul, in which he could buy his son's stock from the Orange County Choppers Holdings, Inc. motorcycle company.
The father, who appears on the television show alongside his son, sent Teutul, Jr. a letter saying he would be exercising his right to buy the stock.
Paul Sr. apparently has filed the lawsuit to the Supreme Court of New York; however I have not seen a copy of the lawsuit heretofore. He also filed a suit against Orange County Choppers, Inc.
In the lawsuit, he claimed damages in excess of $1 million and is asking for an order from the judge to force his son to give him the stock.
My take on the situation is this; yes I have watched the show for years. It is better than watching some of the other crap on TV I will tell you that.
I have been a businessman since I was in my 20's, when I first got venture capital to start Daylight Data Corporation in Los Angeles, and am now running a successful California law firm.
Being successful at business requires management expertise, capital, and luck. It appears to me that Paul Teutul Sr. has been a very successful businessman. He started out installing railings; he worked hard and built his business into a metal manufacturing company, and then started Orange County Choppers. He then used the TV show American Choppers as a marketing vehicle to build his successful business.
There is no doubt that his son really did help with Orange County Choppers, however, in the end, it is the businessman who keeps a company going.
I learned in law school that you never want to represent friends or family because you will never do well enough in their eyes no matter the outcome in a case.
You would think family run businesses would be the easiest to run because of the trust factor. Let me tell you, it takes a special kind of family to stick together to run a business. Unlike other businesses where you can hire and fire at will, it is kind of hard to fire your son, or your brother, etc.
It is a shame that the Teutul's family business relationship has apparently broken down. My personal take on the situation is that Paul Jr.'s head grew too big for his britches. He designed motorcycles, he started making money, he got the big house, he got the nice looking girlfriend, he obtained fame, etc. He started screwing off at work. Not coming in on time. He became unreliable to his father. Above all, he disrespected his father on national television.
Look, I know full well Paul Sr. is an asshole sometimes. Hell, he and my father would get along well if they were too meet. Paul Sr. did not ask anything more of his son, than a son should give to his father and a family owned business.
Without Paul Sr.'s capital, management expertise, and experience, Orange County Choppers would be a non entity. Motorcycle designers and fabricators are a dime a dozen. Paul Jr. could be, and has been replaced. I think Orange County Choppers are putting out their best motorcycles now.
I think Paul Sr. wants nothing more than to have his sons with him; as sons, not as monsters.
In my honest opinion, Paul Jr. should go to his father, apologize for being an asshole to his father, make amends, and jump back into the family business. Maybe when his money starts to run out he will.
Life is too short and you only get one father in this world. Paul Jr. and Mickey should jump back on the team for the big win, especially for their family.
Good luck to Orange County Choppers in all of their endeavors.
By California Motorcycle Accident Lawyer and California Biker Attorney Norman Gregory Fernandez, Esq., © 2010