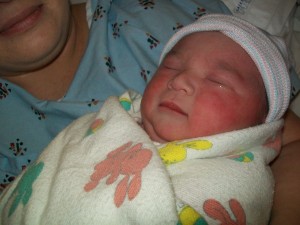 Here she is, literally just out of the oven. (Right after birth)
Well what I can I say, my newest grandchild was born yesterday; her name is Isabella. At almost 8 pounds she is one hell of a healthy baby. All of her toes, fingers, eyes, and ears are there, so thank god for that.
I will meet her later this afternoon for the first time. It is funny how life works; I love my granddaughter, and I have not even met her yet.
If she takes after the family she is going to be an intelligent heartbreaker 🙂
My daughter Elsie is doing well after giving birth, so it does not get better than this.
Both of my parents are also proud to be great grandparents again as well.
After Isabella was born yesterday, I reflected on the cycles of life, the prospects for her future in these tough economic times, and life in general.
I suppose that men in my spot for thousands of human generations have contemplated the same things over the ages.
I think that Isabella and Nathan, my two grandchildren will have a great future. Above anything else, the three most important things I would like to teach them are; (1) love of family, (2) the need for education, and (3) to be good ethical persons in life.
At the moment I am a very happy man!
By Norman Gregory Fernandez, April 13, 2011