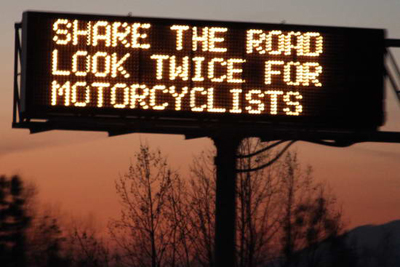 Some of my readers have reported seeing motorcycle safety messages on signs all over California. This intrigued me so I looked into it.
It appears that it is true; the California Highway Patrol has started a campaign to make motorists more aware of motorcycles. The message, "Share the road, look twice for motorcyclists," is being shown on over 700 electronic signs across the state.
I along with probably tens of thousands of California motorcyclists, applaud the California Highway Patrol, the Office of Traffic Safety and Cal-Trans for recognizing the importance of motorcycle safety, and for utilizing this very effective medium to promote highway safety.
I hope that these signs will continue to be used to display motorcycle safety messages. I think that these messages being shown to literally millions of motorist all over California will make everyone more aware of motorcyclist, and may even create some cognitive behavior changes in cager's reactions to motorcyclist. Who knows?
On a stretch of the 405 freeway, where just one of the hundreds of signs is located, it's estimated that 250,000 vehicles pass through every day.
By California Biker Lawyer and California Motorcycle Accident Attorney Norman Gregory Fernandez, Esq., © 2010