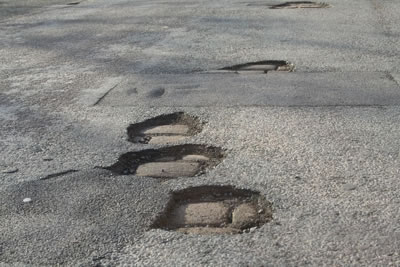 I hope the headline of this article got your attention.
The sad fact is that it is true. The bad economy that we are in right now can kill you or severely injure you if you ride a motorcycle, or are a motorcycle passenger.
You see, the streets, roads, highways, freeways, and interstates of cities, states, and our nation are falling apart, and are in a severe state of disrepair.
Many roads that you ride on have dangerous conditions such as potholes, significant cracks, debris, missing signs, or might even be in a dangerous state due to road construction.
I have represented many motorcycle accident victims whose motorcycle accidents were caused by dangerous conditions on the road.
Heck, in just the last couple of weeks, I have had multiple new motorcycle accident victims sign up with me, because they crashed due to dangerous conditions on the road.
Just recently, I watched a report on a local TV news channel about the fact that Los Angeles has a severe backlog of street repairs that need to be done, but that are on hold due to budget constraints.
They know about severe defects and are not fixing them. In some cases the streets are so bad, that they need to be replaced. Still they are doing nothing.
Well this is unacceptable. You see that the government owes each of us a duty to maintain our roads and highways in a safe condition, such that it is fit to be used in the manner in which it is intended.
Maybe instead of paying government workers six figure salaries, cushy insurance benefits and huge pension plans, that most people in private industry do not get, maybe they should take some of this money and fix our roads.
You see the government knows full well that if you have a road with potholes and other defects, that us motorcycle riders can and do hit these defects and crash.
There are many riders being severely injured and even killed right now, because our roads are not being maintained in a safe manner.
Maybe much of the so-called stimulus money should be spent fixing our roads and streets. Two birds can be killed with one stone; stimulate the economy and fix our infrastructure at the same time.
Getting back on subject, local city, county, and state governments are claiming that they cannot fix our roads because of the economy and their budget deficits.
Well guess what, they are still on the hook for negligence if their failure to fix a road or street, causes a motorcycle rider to crash.
If you or a loved one has been injured in an accident due to a dangerous road condition anywhere in California, give me a call for a free consultation at 800-816-1529 x. 1.
In California you have only 6 months from the date of your accident, to file a claim against a governmental or public entity. You do not have time to mess around.
By California Motorcycle Accident Attorney and Biker Lawyer Norman Gregory Fernandez, Esq., © August 2010