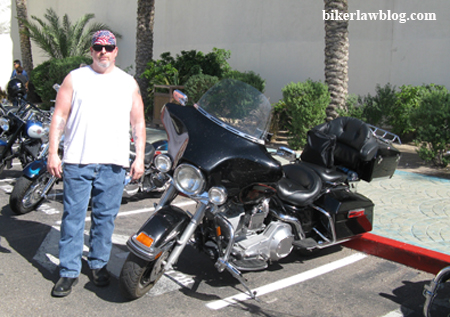 See Videos Below
Well the title says it all, my wife and I owe our lives to god after this years Laughlin River Run. I will explain below.
If you did not know it, it is said that the Laughlin River Run is the largest motorcycle rally in the western United States, and some people say that it is the second largest motorcycle rally in the nation next to Sturgis. It is a great time.
You can read an article I wrote about a previous Laughlin River Run that I did by clicking here.
This year's run began when we packed up my Harley Davidson Electra Glide to go to the Laughlin River Run 2010 on Friday, April 23, 2010.
Since I had to be in Court early Friday morning in Victorville, CA, we could not leave for the Laughlin River Run until Friday afternoon. Many of my friends left on the Thursday, the day before, but I could not go with them because I had to be in Court.
Therefore my wife and I planned on riding alone to Laughlin. By the time I did my pre-ride routine, and we got the motorcycle all packed up, it was very late. We did not get out of dodge until around 7pm; it was already dusk. I had to make a couple of stops along the way before we got on the road. Read the rest of the article below the videos.
By the time we hit the Pearblossom Highway, it was almost dark. We made good time to Victorville and onto the I-15 east. We stopped at Denny's in Barstow and had dinner because we knew we would not get into Laughlin until around 1am or so according to the GPS.
Once back on the road we made good time from the I-15 to the I-40 split. If any of you have ridden on the I-40 between Barstow and Needles, you know that this is amongst the most isolated and desolate places in the United States. This is the Mohave Desert and there is nothing there except Rattlesnakes, Scorpions, and a couple of gas stations along the way.
While on this road we hit some pretty good speeds to say the least, I love riding through the desert at night, there is something spiritual and empty about it. We eventually passed a sign that said "next services 55 miles." My odometer was already at around 60 miles since my last gas stop. I knew my Harley would easily make the next gas stop in 55 miles so that is where I decided to make my last gas stop before Needles.
Saying that I was riding at a pretty good speed is an understatement. I will just say this, I opened her up on the open road, we were hauling ass. As usual, I rode one handed a lot to relieve stress and give each hand a break from holding on. I was riding like normal, everything seemed normal.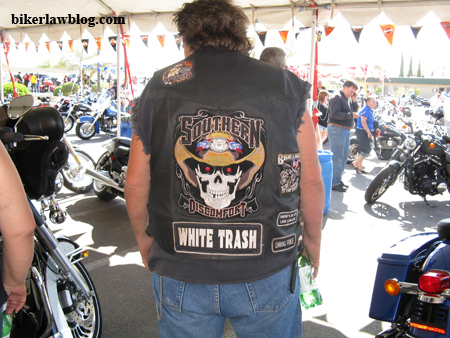 We then approached the last desolate gas station in a shit hole called Essex; this is the place that I planned on stopping to get fuel before we got to our motel in Needles. It was around midnight by this time.
As I got off of the I-40 into the darkness, at a very, shall we say, decent rate of speed, I was still holding on one handed and banking normally. I then downshifted and slowed her up until we got to the stop sign at the end of the ramp.
When I accelerated out of 1st gear the motorcycle started to wobble uncontrollably. You must understand, I have been riding for many years. I immediately knew that something was seriously wrong. I stopped the motorcycle, and tried again; same thing. My wife was on the back.
The gas station on the exit where we stopped was at least a mile down a curved road from where you exit. You could not see it from where I stopped. We were basically just under the bridge in the middle of the friggen desert at night, it was pitch dark, and there was nothing out there with us except snakes, scorpion, coyotes, and god knows what else.
I got my mini led flash light out of the tour pak to see if I could see anything wrong with the motorcycle, everything looked fine. I pushed down on the motorcycle to see if there was something wrong with the shocks, they seemed fine. Everything looked fine. I thought it might be the road which was very rough and irregular. I got on the bike and tried again; same thing, an uncontrollable wobble.
I knew we could not sit out in the desert. Literally at this time in the morning on the I-40 there is very little if no traffic at all. On this particular off ramp there was no one and no light. It was pitch dark. So I proceeded to 1st gear ride the wobblier all the way to the gas station which seemed like a very long distance from the ramp, with my wife on the back.
I very much wanted to accelerate faster to see if the wobble would go away, but frankly the wobble was so bad, even at a couple of miles per hour I could barely control her to get to the gas station. I did not want to take any further chances on dropping the motorcycle, or getting my wife and I injured.
I am telling you, it took all of my concentration, and nerve to get the damm thing down the road. It was wobbling violently all the way.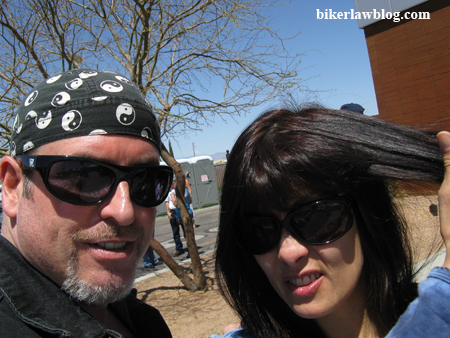 Upon arrival at the gas station, I recognized it from previous trips I have taken on the 40. It is a unique place in the middle of no where. They have no pay phone, no air for tires, and the guy that works there at night looks like one of the guys from the movie Deliverance. They also have a bunch of fish tanks in the place. This place is literally isolated in the middle of no where.
Once we got there, I inspected the motorcycle and could not see anything visibly wrong with the motorcycle. I have AAA roadside service with premier RV and Motorcycle coverage, so I decided that I had better call AAA and get the motorcycle towed back to my home.
To make a long story short, there was no cell phone coverage at the gas station, they had no pay phone, and they guy behind the counter said I could not use his phone. After purchasing a couple of drinks for my wife and me, I finally convinced the guy to let me call AAA which is an 800 number. While I was on the phone with them, the guy at the counter kept on telling me that I had to get off because it was a business line; you get the picture we were screwed and at the mercy of this guy at the gas station for now. AAA told me that they would have someone there in two hours. Two hours! I told them I wanted to get the motorcycle towed back to my house.
It was cold as hell outside by this time in the desert after midnight. Luckily, there were some seats inside. Unfortunately, the guy that worked in the gas station seemed to have a few nuts loose. He must have had a hearing problem, because he screamed when he talked to you, and the guy would not stop talking. My wife and I wanted to just sit there and wait for AAA; instead this guy came to where we were sitting and non stop talked the entire time. I should say he non stop yelled the entire time.
While we were waiting, a couple of motorcycles stopped in at the place. A couple of guys from a famous motorcycle club also stopped in. 4 total motorcycles. We all came to a consensus that I had a flat rear tire.
Although my rear Metzler 880 tire was basically new with all of the tread on it, and it appeared to be fine, upon a closer inspection of the tire, as the guys watched me ride it slowly in the gas station lighted area, they said it looked flat. One guy said that motorcycle tires are heavy duty, and appear to be ok even when they are flat. None of us had a tire gauge, and the gas station did not have one.
This was a new one on me. I always change out my tires when the tread appears to be worn. I have never experienced a flat motorcycle tire before.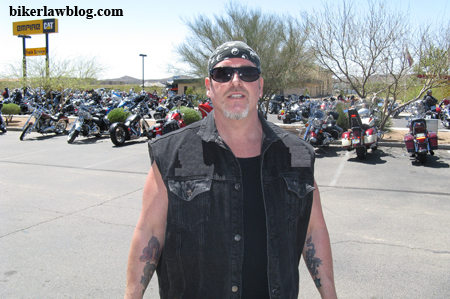 I purchased some fix a flat from the gas station to see if I could get the tire up and working. AAA called at this time, I told the guy who was actually coming out from AAA that I wanted to be towed home. He then dropped the news that the premier towing plan that I paid for only covered 100 miles for RV and Motorcycle, it is 200 miles for a car. I told him that I was going to try fix a flat and for him to call me back. The fix a flat did not work, and luckily it did not work. I knew it would be a bad move to try to ride in the middle of the desert in the middle of the night on fix a flat, plus the bottle said it was not for motorcycle use. When the AAA guy called back, I told him that we were just going to have it towed to our motel in Needles, CA.
So there we sat in the middle of no where, in the middle of the night, with a guy from the movie deliverance that would not stop talking to us, waiting for AAA, with no cell phone service, basically stranded. It was very cold outside. This was the beginning of our Laughlin River Run 2010 experience.
At around 2am we got a break from the action when some drunks pulled in and started fighting with each other about one of them putting out some gas money. Other than that we were stuck, and there was no customers coming in.
Finally the AAA guy showed up with an SUV and a trailer two and half hours later at 2:30am. We got the bike on the trailer and as he was strapping it in he broke off one of the reflectors on my front frame. I was not going to say shit because I just wanted to get the motorcycle towed to anywhere but where we were at.
After a 40 mile trip at 55 miles per hour (speed limit of vehicles with a trailer in this part of the country) we finally got to the motel at around 3:30am. We got the motorcycle off of the trailer and I was bummed. The guy gave me the card of some bike shop in Fort Mohave across the river. I would call them in the morning after a few hours sleep.
At this point while we were in the Motel, I realized that my wife and I were lucky to be alive. I cannot stress this point enough. Over and over in my head I tried to remember a point in the trip where I felt that something was wrong with the motorcycle. Had the motorcycle gone into a wobble of the type that we had when we got off of the I-40, at lets say 90 miles per hour, we would have been history, we would most likely be dead.
Think about it; I was riding one handed at speeds of 70mph plus and my rear tire had gone flat somewhere along the line. We could have crashed and no one would have seen us until they were running over us, or we could have gone off of the side of the road, and not be seen until daylight or even days later. This is how dark and desolate this stretch of the desert is. The only explanation I have for us not crashing that night was that GOD was watching over us. We are now still alive because of the grace of god.
This experience has changed both my wife and I. I am going to write a separate article on this subject, but suffice is to say; I am now much more cognizant of each and every bump and cranny while riding the motorcycle. After years of meticulous detail in checking my tires and tread, I finally had a catastrophic failure that could have been fatal. Thank GOD we made it out of this one alive and ok.
We did not get to sleep until around 5:30am Saturday morning. I set the clock to wake up at 9am so that I could call the shop on the card that the tow truck driver gave me. The tow truck driver told me that there was no Harley Davidson dealership within a hundred miles.
When we woke up in the morning, we discovered that our cell phones did not work in Needles either. Needles, California is a small desert town on the Arizona, Nevada border. I used the motel phone to call the shop on the card that the tow truck driver gave us. A girl answered the phone; XXX (I will not write their real name) and tattoo shop. I immediately knew I was screwed. Tattoo shop? I told her that I needed a tire for my Electra Glide. When she asked me for the size of the tire, I knew I was in trouble at that point; any reputable Harley shop knows the size of a stock Harley Davidson tire. I gave her the tire size. When she told me, "oh yes, we have some good used tires in that size available," I knew that I needed to find a better solution.
There was no way in hell that I was going to ride with my wife on a used tire in the middle of the Mohave Desert.
I found the yellow pages in the room; it was the thinnest yellow pages I have ever seen. I looked under motorcycles. There was a small square ad for Harley Davidson's, Honda, etc. They were located in Kingman, Arizona about 70 miles from where we were at. I called them up. Turns out that they were a Harley Davidson dealership. The gal on the phone said that they had 19 tires in stock. I did not tell her I had a Metzler on the bike, I knew she was referring to the stock Dunlop that comes with the motorcycle. I did not care, I was desperate. I told her that I was towing the motorcycle in.
I then called AAA, and used up another one of my 4 tows for the year, and told them I wanted to get my motorcycle towed to the dealership in Kingman. They told me that they would be at the motel within an hour.
My wife and I at this point were hungry, in need of coffee, and not having a very good time at all to say the least. My wife contemplated staying in the room and sleeping while I got the motorcycle repaired. Lucky for her she decided to come with me as you will read below. There was no food or restaurant anywhere close or within walking distance to the motel where we were staying.
Finally the tow truck driver arrived with a big flat bed tow truck. The guy had fresh oil spilled all over the flat bed from a car he towed previously; he had not cleaned it. I just wanted to get my motorcycle to the Harley Davidson dealership in Kingman.
The guy seemed like he knew what he was doing. I expressed my concern as I rode the bike onto the flatbed that if the tires hit the oil or my foot hit the oil I could drop the bike. He said "don't worry; I know what I am doing."
He strapped the bike on the flatbed, and we proceeded to drive the one hour to Kingman in the tow truck.
While on the I-40, in Kingman, we could see what appeared to be a big motorcycle event to the left. There were thousands of motorcycles, tents, a band, trailers, you name it; it was the friggen Harley dealership we were going to. They were literally having a rally and poker run to go along with the Laughlin River run. No one on the phone told me that this event was going on! It would not have mattered either way, we were stuck and this was the only game in town.
As we got off of the freeway and made a turn, the tow trunk driver pulled off the road and said he "had to check my bike, it looks like the straps have come loose." As I got out of the truck, I saw my beautiful and treasured Electra Glide sitting squarely on its side on the flat bed truck. The bike had fallen over. I could not fucking believe it. There was my motorcycle that I polish and take care of like nothing else in my life sitting on its side on the flatbed truck. I was too tired, and too desperate to get out of this BS situation to scream at or punch the guy. I told him the straps are not holding my bike, the bike had fallen all the way over. He knew it. I could see that he was embarrassed. He told me that he would take care of any damage.
We then lifted my motorcycle back up. I did not see any visible damage. He strapped the bike back up and we went the ½ mile to the Harley Dealership. Picture this, there were police, there was security, there was thousands of motorcycles and people, they had the entrances to the dealership all blocked off to traffic, it was a damm festival/rally. The guy in the tow truck asked me if I could get the motorcycle in from the street, through all of the people and motorcycles. I said hell no, I had a flat tire and could barely hold the thing up with the wobble with no people around.
I jumped out of the truck and told one of the security guys that we were going to service. Almost instantly, the guy removed the blockade from the entrance, and ran in front of the tow truck, parting the way for us, all of the way to the gated service entrance. I was amazed and so was the two truck driver.
The guys from service all jumped on the back of the flatbed. They all bitched about the fresh spilled oil on the flatbed, but we got the bike off. I told them that the bike had fallen on the flatbed, and they all gave me empathy. At this point I felt like everything was going be ok, I was home, at a real Harley Davidson dealership.
The tow truck driver gave me his card and told me not to worry, that he would take care of any damage. I did not give him a tip because he dropped my bike.
So there we were, at the Kingman, Arizona Harley Davison Dealership, during Laughlin River Run weekend, with thousands of other people. Yippee. As it turns out, there were a lot of other people that broke down, and who were in service just like us.
The service gal told me that they had the Metzler 880 in stock, which made happy that I would not have to ride with a mismatched Dunlop stocker on the back. I told her "hell since I am here, why don't you also do an inspection of the motorcycle, check the timing, and change out the fluids."
I run with fossil oil in all of my motorcycles. This dealership told me they only used synthetic, so I went with what they had. I was happy. Hell at this point I really did not care about cost, I just wanted to get back out on the road; well I should have been concerned; they ripped me off! I will talk about that below.
I was told it would take two hours to replace the tire, and to do what I had asked. Great!
By the way, we still had no cell phone service in Kingman, Arizona, which made it impossible for us to check messages or get a hold of our friends in Laughlin.
So there we were. We got to the dealership at around noon. We were hungry. Everything we needed was at the dealer event; we got some good food, some lemonade. They had beer and such, but neither I nor my wife drink alcohol. We checked out the vendors, we basically had a good time.
However, when 3pm rolled I became concerned. I went up to the desk. I was told that there were motorcycles still ahead of me. At 4:00pm I noticed that my motorcycle was still sitting out back and had not been touched. I was told that I was next.
The dealership was scheduled to close at 6pm, and the crowd was starting to significantly thin out. At 5pm, my bike was inside being worked on, but no word. The gal at the desk told me that she would find me when the bike was done.
At 5:45, I told my wife to go ask about the bike; I knew the gal at the counter was sick of telling me to wait. At this time I saw the mechanic test riding my motorcycle back into the service gate; thank god, my baby was ready to rock and roll. Before my wife came to tell me, I knew my motorcycle was ready; with 15 minutes to spare before they closed.
It was 9 hours since we woke up, and 6 hours since we got to the dealership.
When I got the counter I had a sinking feeling that they were going to overcharge me, boy was I right. When I asked how much do I owe, she said $500.00. Five fucken hundred dollars, to replace a rear tire, change the fluids, inspect the bike, clean the air filter, and add brake fluid. I was shocked but I did not say anything because I was grateful that my wife and I were alive, and that my bike was fixed.
It could have been much worse. Hell the tow alone from the motel to the dealership would have cost $400.00 had I not had AAA premier membership.
I bit my lip and gave her my Visa checkcard. Earlier at the dealership parts desk, I purchased a reflector to replace the one that the original tow truck guy broke off, and a paint repair kit to fix a couple of dings I have in the paint. The dealership nailed me for $500.00. Hell in the San Fernando Valley, I got both tires replaced for less money.
The gal told me that they inspected the motorcycle from the fall on the tow truck and that there was no damage. Hell I did not even see a scratch; another miracle. She told me that I would soon need to get new brake pads, but other than that, I was good to go.
I asked her what was wrong with the original rear tire. She brought it out and told me to look inside. She said you could see an imperfection inside. To me it still looked like a brand new tire. There was no holes, nothing to explain why it went flat, other than a supposid defect inside.
Another troublesome thing is that she told me that the reason my bike took so long to get done was because the mechanic could not balance the first Metzler they put on, they had to use a second tire. This concerned me, and still does. Is there a problem with the rim?
Suffice is to say I was more relieved than pissed off at this point. I cannot explain how happy I was to get my motorcycle back working. If you are going to take a long road trip, make sure you have money or a credit card just in case something goes wrong!
When we finally got into Laughlin on Saturday night, the rally nightlife was in full swing; it seemed like we missed everything. Because it was night, most of the vendors were closed, but there was still a lot happening.
We went to the Edgewater Casino, where I proceeded to loose about $200 bucks within a half hour on the slot machines. I could not win anything, not even a teaser! It became apparent to me that my luck on this trick was just not there, and we would just be lucky to make it home alive and safe.
We decided to go into the nightclub at the Edgewater and dance a bit. We had fun. We rode back to our motel in Needles and crashed out at around 4 or 5 am.
When we got back to Laughlin at around 2 on Sunday afternoon, the rally was closing down and everyone was heading out. The vendors were all closing up, but there were many still open. We missed most of the goings on because of the bike issues.
What did I do? I bought a rally shirt, and then proceeded to loose another $150 bucks and the slots and blackjack. My wife did not do any better. We waked along the river a bit, socialized with some of the people, and then decided to hit the road.
We had a good run back home, arriving at around 2am.
Will I be back at the Laughlin River Run next year? Hell Yes, I cannot wait.
Maybe next year I will tell you more about the actual rally itself.
By California Motorcycle Accident Attorney and Biker Lawyer, Norman Gregory Fernandez, Esq., © 2010