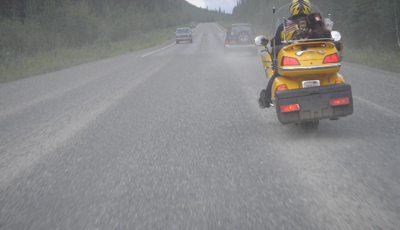 If you are a biker or a motorcyclist, and you actually ride your motorcycle, you have probably had a run in with loose gravel on the road or a parking lot at some point or another. It can be a real bitch to say the least.
Talking to a new client this evening brought up some bad memories I have had riding though gravel in the past myself, not to mention the many cases I have handled of motorcycle accidents caused by loose gravel.
My new client, who we will call Lucy for this article, was a passenger on a motorcycle that was being driven by her ex-boyfriend that went down when they hit a patch of gravel.
He was pinned underneath the motorcycle, she was thrown off and suffered severe injuries.
I am representing Lucy the passenger.
As she described it, they were not riding fast, and they turned into onto a familiar street, and then the bike (a Harley Davidson) just kind of slid out from underneath them for no apparent reason. Once they were down they realized that they hit a patch of gravel. Both were injured.
As we all know or should know, a motorcycle only has 2 wheels that we balance on when riding. Unlike a car or other cage vehicle, generally a motorcycle's 2 wheels have a very small tread area that actually contacts with the ground when we are riding. Yea I know that some of you have 200's on the rear, or fat racing slicks on your sport motorcycle, but that is not the norm.
Most of us have a very small amount of tread that contact with the ground when we are riding. If we ride over loose gravel, sand, or rocks on the road, it can very well cause your motorcycle to slide out from under you and ruin your whole day.
My worst experience with gravel happened on a very lonely unnamed off ramp on Highway 40 in Arizona between Flagstaff and Kingman in the middle of the night. My then fiancé and I got off to get some gas. It was pitch dark. No lights at all except for my headlight. The gas station was on the other side of the interstate under a bridge. There was no light from it at all when I got off.
As I turned left my motorcycle slid out from under me. I am no expert rider, but I managed to keep the motorcycle up. I was scared shitless. Had we gone down, we could have been run over by someone speeding down the off ramp due to no light, or we could have been laying there for quite some time. We were literally in the middle of no where, in the middle of the night. (Just the way Bikers like it.)
When we got to the gas station I told my fiancé what happened. She was so tired that she had no clue that we almost ate it.
Who is at fault if an Accident is caused by loose gravel, or on the Road?
Generally the person operating the motorcycle has a duty of due care to ride the motorcycle safely on all surfaces, therefore the rider is responsible.
However, it can also be argued that it is reasonably foreseeable to private persons, private property owners, or governmental entitles, that loose gravel or sand on hard pavement can create a dangerous condition to persons riding motorcycles because these vehicles balance on two wheels only, and loose gravel or sand can cause them to go out of control.
In other words, an experienced Biker Attorney and Motorcycle Accident Attorney such as me can and will go after a person or entity that knowingly puts loose gravel or sand on a road that is used by motorcycle riders, because it creates a dangerous condition that they either know about, or should know about.
This is a very good reason why you do not want to go to a garden variety personal injury attorney who advertises that they do motorcycle accident cases, but has no clue what it is to actually ride a motorcycle. Only a real biker and rider of motorcycles understands the gravel or sand problem as it relates to motorcycle riders. I understand the problem because I have experienced it.
So there it is; if you go down due to loose gravel or sand on a public or private road, or even a parking lot anywhere in California, you should give me a call for a free consultation at 800-816-1529 x. 1. I will tell you over the phone if you have a good case.
California Motorcycle Accident Attorney and Biker Lawyer Norman Gregory Fernandez, © 2010