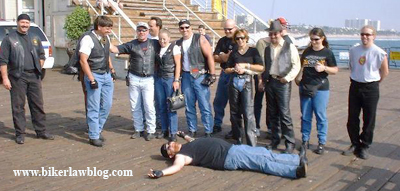 Last year around this time I wrote an article about May being motorcycle safety awareness month, which you can read by clicking here now.
Although it is not quite May, 2008 yet, as my fiancé and I get ready to ride to Laughlin, Nevada for the Laughlin River Run ( you can read an article about last years run by clicking here now. ) and with the weather being so good here in Southern California, and Nevada, I know there will be bikers and motorcyclist out riding by the tens of thousands over the next week!
Keep it safe people. Motorcycle Safety means inspecting your motorcycle, wearing proper motorcycle riding gear, and riding defensively on the road.
Just because I am a Biker Lawyer and I handle many motorcycle accident cases, does not mean that I do not like to have fun out there myself. Yes, I too may give my Electra Glide a bit too much throttle from time to time, and yes I too may take off the helmet while riding in Arizona over the next week, but nonetheless, I will still be careful and cognizant.
Bottom line, be safe on your motorcycles ALL OF THE TIME people. The month of May was meant by the NHTSA to make you aware of safety. I say motorcycle safety is a full time gig!
By Norman Gregory Fernandez, Esq., © 2008