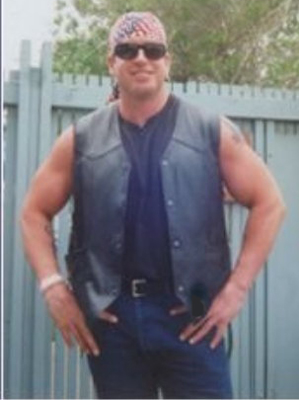 I cannot tell you how many motorcycle riders have called me this summer after having a motorcycle accident.
One guy in particular really disturbed me. His fiancé called me. He was taken out by a 17 year old teenage girl who had gotten her drivers license 2 weeks before the accident.
As she was driving in the slow lane, she told the CHP that she swerved her car trying to avoid something in her lane. While swerving, she cut across 4 lanes of traffic on the 10 freeway, and nailed my guy on the motorcycle as he was riding to work as a truck driver.
My guy had been riding motorcycles for years, this was his first accident. He had leathers on, and a full face helmet. He suffered a traumatic brain injury from the accident.
In the hospital, his family and fiancé were told he had the worst possible type of brain injury, and that he had a 10% chance of survival. Even before he woke up from his coma, his family and fiancé were told that he had permanent brain damage.
The girl who hit my guy only had the California minimum insurance of 15k per person per incident. This insurance amount will not even cover one day of my guy's hospital care.
He was in a coma for about a month and in the hospital for 4 months. He is recovering, but he will never be the same. He see's double vision, he is learning how to talk again, and he will never be able to return back to work as a truck driver. It is unknown what the future has in store for him, but at least he is still alive, and his fiancé is sticking by him.
He is fucked not only because he got taken out by a teenage girl in a car on the freeway, but because of her minimum 15k insurance coverage, he will get no money at all to compensate him for his future care, future loss of wages, his pain and suffering, loss of enjoyment of life, his emotional distress, etc.
This girl ruined his life.
This does not have to happen to you or your family.
WOULD YOU TRUST THE FUTURE OF YOU OR YOUR FAMILY TO HOW MUCH LIABILITY INSURANCE A TEENAGE GIRL DECIDES TO BUY?
Read the above sentence very carefully. If you as motorcycle rider want to put you and your family's future in the hands of whatever liability insurance another driver buys, then you are a fool, yes a fool.
I cannot tell you how many times I get calls from victims of motorcycle accidents who are stuck living with the policy limits of the people who hit them. 99% of the time, the person who hit you in a motorcycle accident case, does not have enough insurance to properly compensate you.
I have recommended for years that every motorcycle rider and biker carry at least 1 million dollars in under insured and uninsured motorist coverage to cover the difference between the insurance liability policy that a person who hits you has, and what you may actually need to compensate you for your losses in a motorcycle accident case.
Yet time and time again, I hear the same old story from motorcycle accident victims, they do not have under insured coverage or uninsured motorist coverage to cover their losses.
I will lay it out straight to you because I am a fellow motorcycle rider and biker; if you get into a motorcycle accident, chances are that you will suffer a catastrophic injury, because we are not surrounded by sheet metal like in a car.
If you suffer a catastrophic injury in an accident that is not your fault, you could be entitled to substantial money. In order to get substantial money, you need to have substantial insurance. Many if not most people who may hit you on the road on your motorcycle, either have minimum insurance or no insurance because of the economy.
Therefore you need to protect yourself and buy the level of insurance that you feel comfortable with in case you suffer a catastrophic injury. This is not only to protect yourself, but to protect your family as well.
I suggest 1 million in under insured, and uninsured. If you can afford more, get more.
Look many of you out there spend hundred's and possibly thousands of dollars per year on aftermarket accessories for your motorcycles why not take a chunk of that and protect yourself and your family.
This is just common sense.
By California Motorcycle Accident Attorney and Biker Lawyer Norman Gregory Fernandez, Esq., © September 10, 2010