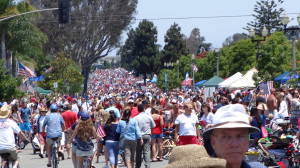 I woke up today after playing ping pong for hours last night at my law partner's house in Laguna. I went out onto my master suite patio and had a cigar. I watched as the participants in the Huntington Beach Independence day parade, got ready to start the parade on my street. Yes, my street was closed for the parade.
Once finished with the cigar, I threw my new Sony hand held camera into my backpack, saddled up on my Schwinn bicycle and rode into the fray.
There was hundreds of thousands of folks lining the parade route on Main Street. I am sure there were more all along the parade route that I did not see.
I rode my bicycle up and down Main Street a few times. It was kind of tough with all the people walking, and little kids on bikes not knowing road rules, but I had a great time. I even got videos holding the camera in my left hand while I pedaled and held the handlebars with my right hand.
You can see two of the raw videos I took below.
Have a happy Independence Day.
California Motorcycle Accident Lawyer and Biker Attorney, Norman Gregory Fernandez, July 4, 2013