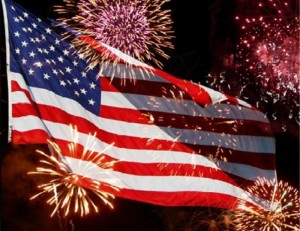 I would like to wish you on behalf of myself and the Biker Law Blog a happy Independence Day for the year 2014.
On this day in the year 1776, a group of liberal radicals declared their independence from the English Empire, which was a treasonous act punishable by death.
In 1776, the English Empire was the greatest empire on earth.
The people of the American colonies wanted a government of the people, by the people, and for the people. They revolted against England because they had no representation in the English Parliament, and although they paid taxes, they were treated with disdain by England.
Then, as it is now, men have stood up and beared arms for the United States of America, and for the principles on which it stands.
Today is more than just a day for playing grab ass with the family, barbecuing, watching parades, and watching fireworks. Today is a celebration of our nation's freedom and independence.
If you take a look at all the craziness around the world, especially the Middle East, and the Ukraine, you get a little taste of what it might be like for us if we do not stand strong as united nation.
As you watch the fireworks tonight, maybe reflect on how lucky we are to live in the United States of America.
By California Motorcycle Accident Lawyer, and Biker Attorney, Norman Gregory Fernandez, July 4, 2014