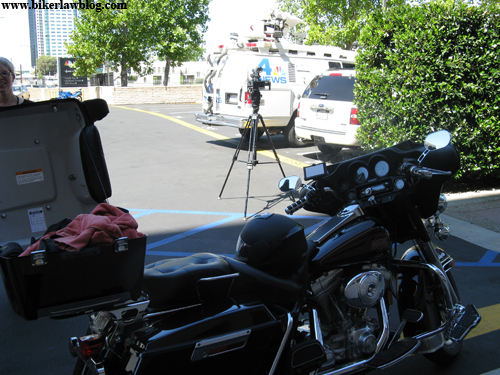 Well it has been 40 something years since that sunny summer day in the sixties when my dad first put me on a mini-bike in the fields behind the housing development where we lived at the time.
I have ridden some form of motorcycle ever since.
I will admit that from time to time, especially when I was in my teens, and early 20's, I was not so concerned about motorcycle safety.
Since becoming an attorney who handles motorcycle accident cases all over the State of California, and becoming a recognized expert on the subject of motorcycle safety, I figure I am really careful at least 99% of the time. The other 1% of the time I do foolish things like maybe crack the throttle and go real fast, or wear no helmet in States that have no helmet laws; stuff like that.
Well today I did a bonehead thing that could have cost me my life.
You see I have been to NBC studios twice in the last few weeks to be interviewed by an Emmy award winning news producer and her team, and to have action shots taken of me on my motorcycle. I am not going to go into any detail with regards to this piece, until it airs so don't ask.
Today was the action shot day. So I woke up early, suited up, and rode my motorcycle to the NBC studios in Burbank. Hell I went straight to the A lot today, that is where the insiders get to park.
Anyway, back to the subject of this story. It was a real hot day today. It was in the 100's. It was so hot that I had a gallon jug of water in my tour pak, and when I got home it was hot.
So as I left the NBC studios, the Alameda on-ramp to the 170 freeway was closed so I had to take a detour. I ended up on Lankershiem Blvd. in North Hollywood.
I got into a left hand turn lane behind a big ass truck that had multiple cars in front of it.  This was on old fashioned light with no green arrow. If you are lucky two cars can turn when the thing turns yellow.
The light turns green and nothing. We did not move. It was over 100 degrees, I had long sleeves on to protect myself against the sun, and I had a full face modular helmet on.
I knew if I sat at this light another cycle, I would start to severely overheat the way I was dressed. I decided to move into a traffic lane to the right, flip a U turn, and make a quick right.
Well this is where my life almost ended. I looked in my rear view mirror, did not see anything, and then flipped into the traffic lane to the right. Just as I got into the lane, there was a friggen car right there. In other words, I cut off a car that was doing at least 35mph, on my Electra Glide. Had the guy not been paying attention, had he not hit the brakes, had I not accelerated like a bat out of hell, I would have been toast on the hot pavement.
I fucked up and I know it. When I went to flip a U turn the guy passed me and gave me a hand signal which means "what the fuck" He put his hand out the window with the palm facing up. If you saw it, you would know what it meant. Anyway………….. Right after the incident, I thanked GOD for keeping me safe. I pray that way from time to time.
I analyzed what happened on the long hot ride back home. The first fuckup was that I was in too much of a rush to flip into the lane.
We riders of motorcycles do not get second chances like I got today. I was lucky. Next time I won't be so lucky.
I should have not relied exclusively on my mirror; I should have turned my head to make sure the coast was clear.
A simple turn of your head can save your life.
The second thing I realized was that even though I feel that a full face helmet is the way to go for safety, it has an inherent flaw; it takes away your peripheral vision. Had I not had a helmet on, I may have seen the car. Then again, if the car had taken me out, I would have rather had the helmet on.
What lessen did I learn today that I am passing on to you; turn your head when changing lanes, don't just rely on mirrors, turn your head, and take your time.
Yes it may be a little hot, or you may have to wait at a light in 100 degree weather. However, this inconvenience is better than ending up frying on the pavement in a pool of blood.
By California Motorcycle Accident Attorney and Biker Lawyer, Norman Gregory Fernandez, Esq., © August 2010