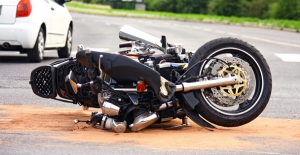 Motorcycle accidents can be tragic as well as upsetting events.
The stats speak for themselves. Serious bodily harm as well as death is often the result of a motorcycle accident. Of the actual motorcycle accidents that do occur, roughly one out of every five motorcycle riders is actually fortunate enough to come away from the experience with just minimal bumps, bruises and abrasions. The lack of a protective buffer around the biker and the road inevitably leaves bikers in a very vulnerable situation. Generally there tend to be many common causes of motorcycle accidents, of which the most frequent, and clearly the predominant cause, is definitely a consequence of other motor vehicle drivers to some extent not seeing and recognizing motorcycles within dense traffic.
A number of reports offer support to this particular claim because they advise that virtually 66 % of almost all accidents involving a motorcycle and another car or truck are a direct end result of the motorist in a vehicle turning into the lane of the motorcycle and violating the motorcyclist's right of way. It has likewise been advised that motorcyclists are 27 times more prone to die in a collision than are people in the other car or truck and they are also five times more prone to sustain an injury. Anyone can see then, the disastrous effects of car-motorcycle accidents.
Additional causative factors
Generally there tend to be a wealth of additional factors behind motorcycle accidents that occur quite frequently. One in particular can be motorcyclists who are inexperienced and simply do not know the constraints of their machine These brand-new riders push their motorcycles to the limit, which, in many cases, far exceeds the speed limit. This brings about another major reason for motorcycle accidents. Needless to say, speeding is not only restricted to new and young motorcycle riders, as often older and more experienced motorcycle riders have been also guilty of operating their motorcycles past the speed limit. Many motorcyclists really like the feel of the wind blowing through their hair, the freedom associated with the open road and the thrill associated with riding fast just inches from the road however,, traveling over the speed limit can result in dire consequences. A quick slip of the handlebars or an unforeseen obstacle ahead of the motorcycle can easily send the motorcycle reeling out of control. Therefore, speeding can be extremely dangerous and it's also frequently the reason for many motorcycle accidents.
An additional common cause of motorcycle accidents can be a consequence of the motorcyclist's carelessness. In cases where the motorcycle accident does not include another car, truck, or vehicle, the failure of the motorcycle rider to reduce speed when making a turn or simply under-turning as well as over braking in the turn are causes of motorcycle accidentrs in some instances. There can to be many various other things that may cause physical harm to the motorcycle rider after the initial motorcycle accident. Fuel leakage and spills in the post-crash phase can introduce a fire hazard and are common within approximately 60 % of all accidents sites.
Be careful out there when riding your motorcycle.
Riding within 5 miles per hour of the speed limit and wearing proper protection as well as a good helmet can make your ride more enjoyable, and increase your odds of survival in the event you are in an accident.
If you or a loved one has been involved in a motorcycle accident anywhere in the State of California, call the real California Biker Lawyer Norman Gregory Fernandez for a free consultation at 800-816-1529 x. 1.
California Motorcycle Accident Attorney and Biker Lawyer Norman Gregory Fernandez