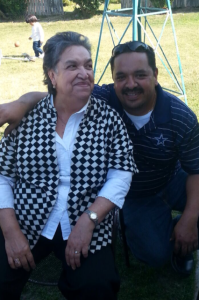 On March 30, 2013, Alvaro Horacio Arroyo, was enjoying a day with his family.
He is pictured here on the upper left with his mother just 20 minutes before he was fatally injured in a motorcycle accident that was caused due to a negligent elderly person who made a left turn in front of him.
He was the jovial father of four sons, Alvaro – age 13, Alessandro – age 9, Ali – age 7, and Alden – age 2.
He was a loving husband to a blind and disabled wife Rosa.
He was a loving brother to Marisa, Nancy, Hector, Elmer, and Jesse.
He was a loving son to mother Agripina.
Alvaro was known as a kind and jovial person; the kind of person who made friends with everyone. He was the kind of person who made everyone laugh, and who everyone wanted to be around.
He was a role model to his children, and never balked at lending a helping hand to anyone that needed it, most of all his family.
On March 30, 2013, Alvaro decided to take his niece Bianca, for a ride around the block on his 2012, Yamaha YZF R6 motorcycle.
Bianca happened to be the primary caregiver for Alvaro's disabled wife Rosa, and is herself also married with kids.
On that fateful day on March 30, 2013 as Alvaro and Bianca went for a short ride around the block where they lived, a car driven by a careless and  negligent elderly person turned left directly in front of them.
Having no time to react or maneuver or stop, they hit the vehicle.
Alvaro suffered massive head trauma and died of his injuries on April 5, 2013.
Bianca suffered severe injuries to her right leg, and the right side of her face which required multiple surgeries to both.
Her recovery will be slow and painful and she will need much more medical treatment and therapy to recover.
Rosa and Bianca now both need help living day to day, as well as their children.
The children of Alvaro and Bianca are suffering untold emotional distress, and at their young age do not really full comprehend the tragedy that has happened to the family simply because a negligent driver was not paying attention to what they were doing while driving.
Alvaro was a registered organ and tissue donor. With his wife's approval, Alvaro's organs were donated in an attempt to save other people's lives. One Legacy he leaves is that he has helped other people to live by donating his organs.
This tragedy has left Alvaro's family with no money to live.
They are in extreme need of help. The family is accepting donations through their PayPal account at:
lupiruz@msn.com
To make a donation simply go to PayPal by clicking here, and send your donation to email address:
lupiruz@msn.com
Services for Alvaro will be held at:
Forest Lawn Cemetery
1500 E. San Antonio Dr.
Long Beach, CA 90807
Visitation service and viewing will be:
Friday, April 19, 2013 5:00 pm – 9:00 pm
Memorial and Funeral will be: Saturday, April 20, 2013 2:00 pm
Rest in Peace Alvaro…………..