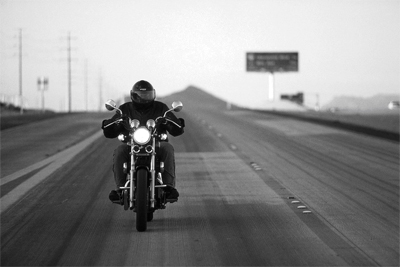 The U.S. Department of Transportation has recorded a 150 percent jump in motorcyclist fatalities in the past decade. This huge rise in motorcycle fatalities has researchers perplexed.
Even though I do not want it to be so because I myself am a biker and motorcycle rider, Motorcyclists are considered the highest risk motorist group, accounting for 14 percent of all fatal traffic incidents.
Department of Transportation's Fatality Analysis Reporting System recorded 5,290 crash deaths among motorcyclists in 2008 and 96,000 injuries.
The traffic fatality rate for motorcycle riders has steadily increased since 1997, while other motor vehicle-related deaths declined.
The greatest number of motorcycle deaths on the road (36.4%) involves front-end crashes with other vehicles.
Collisions with motor vehicles overall are responsible for slightly less than half of the annual death toll among motorcyclists, according to the federal data.
The Federal Highway Administration will fund a study by Oklahoma State University's Oklahoma Transportation Center designed to pinpoint causes of the increasing fatality rate among motorcyclists and identify prospective interventions. Researchers will study commonalities among motorcycle crashes ranging from road configurations and environmental conditions to rider experience in assessing the reasons for the high rate of fatalities among motorcyclists.
The Oklahoma Transportation Center research follows a 1981 NHTSA-sponsored study as well as a study conducted by the Association of European Motorcycle Manufacturers from 1999 to 2000 and one conducted in Thailand in 2001. The 1981 study found several factors contributing to motorcycle fatalities, including auto driver failure to detect motorcyclists and lack of safety equipment such as helmets. The study recommended improved licensing and training, as well as measures to make motorcyclists more conspicuous on the roads.
The European study again cited driver error, attributing 50 percent of crashes to auto drivers and 37 percent to motorcycle operators. Significantly, more motorcycle crashes occurred on straight roadways and minor roads than on curved roads or major highways.
Unlike the American and European studies, the Thailand study found rider error to be the major contributor to motorcyclist fatalities, with alcohol implicated in 40 percent of crashes. The most common type of crash was the motorcyclist rear-ending an auto. In the Thai research, only a single motorcyclist acknowledged receiving any training in operating motorcycles; the study concluded that the absence of training led to the high rider error rate.
The upcoming study in Oklahoma will build on the knowledge attained in earlier studies, establishing which crash causes remain of concern and which interventions undertaken in response to earlier studies have proven effective, as well as identifying new contributors to the high incidence of motorcycle crashes.
Look folks, according to the data we have so far, many motorcycle accident deaths can be avoided by having proper training, proper safety equipment such as full leathers and helmets, making yourself more conspicuous (seen) while riding, and not using mind altering drugs or alcohol when riding.
The sad fact is the data shows that a majority of motorcycle related accidents and deaths are due to other motor vehicles such as cars, SUVs', trucks, bus's etc., running into the motorcyclist, or cutting them off. Therefore you must have the proper skill and clarity of mind to be constantly looking out for these idiots.
If you or a loved one has had a motorcycle accident anywhere in the State of California, or you were a passenger on a motorcycle that has had an accident in California, you may call me for a free consultation at 800-816-1529 x.1. I ride just like you!
By California Biker Attorney and Motorcycle Accident Lawyer Norman Gregory Fernandez, Esq., © 2010