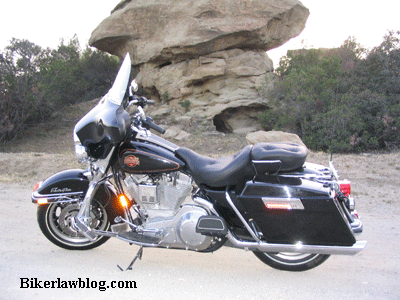 Although we ride our motorcycles all year here in California, in many parts of the country, riding season has begun with the coming of spring.
Whether you are in California, or somewhere else in the Country or world, it is always a good idea to do a safety inspection of your motorcycle, or have an authorized dealer or mechanic to do the same.
Having a motorcycle that is unsafe can cause motorcycle accidents. Unlike in a car that has 4 wheels, a motorcycle only has 2 wheels. There is no room for error or skimping on ensuring that your motorcycle is in tip top shape for riding.
I was recently on a group run where multiple people got flat tires. To be frank this was an odd occurrence and could have either been a coincidence, or the result of rolling though debris or road conditions that caused the flat tires, I do not know.
During a pit stop, one of the guys had some of that spray tire sealant put into his tire to get it back up, and the peer pressure was put on him to continue the ride. I whispered into his ear that his life was not worth it and that he should take the motorcycle to the dealer to get a new tire. I will say it again; on a motorcycle we only have 2 tires. Tire sealant and or plugs or patches are not safe for motorcycles period. Some people may argue or disagree, I don't care. Unlike in a car, on a motorcycle the result of a blown tire can be your life or gross or serious personal injury. It is not worth taking a chance.
Inspect your motorcycle for loose bolts or screws. Check your brakes and tires for wear and replace pads or tires if necessary. Replace oil and fluids if necessary, etc. Making your motorcycle safe is not rocket science.
Above all the key to riding your motorcycle in a safe manner is you yourself as a biker or motorcyclist, taking it easy on your motorcycle, especially if you are getting back on the motorcycle after a winter break, or even a couple of week break. You are the key to preventing a motorcycle accident and personal injury. You need to watch for negligent cagers; cover at intersections; keep your motorcycle in gear at stops and watch behind you for potential rear enders; take turns slow; not ride next to cars or trucks; stay visible; ride like cagers cannot see you; anticipate the worst thing a cager can do, etc.
I wish nothing more than for you all to be safe this motorcycle riding season. I will be on the road this season as well and am planning on riding my Harley Davidson Electra Glide thousands of miles. I will be at many major motorcycle rallies this summer; therefore, I need to heed my own advice too.
Be Safe this Season so says the Biker Law Blog!
If god forbid you do have a motorcycle accident, or are a passenger who has been injured in a motorcycle accident in the State of California, and want to talk to a real biker lawyer who handles motorcycle accidents you may call me at 800-816-1529, extension 1.
By Norman Gregory Fernandez, Esq., © 2008