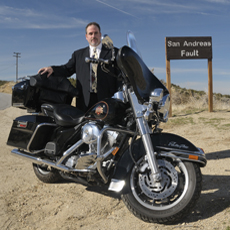 I am a Motorcycle Accident Attorney who handles motorcycle accident cases all over the State of California. Unlike all of the other lawyers out there advertising for motorcycle accident cases, I actually ride motorcycles.
I have a unique incite above all other lawyers who do not ride motorcycles because I am actually a biker like you.
I cannot tell you how sick and tired I am of getting a new motorcycle accident case, where my client has suffered catastrophic injuries, and the person at fault has minimum $15,000 coverage, no coverage, or coverage nowhere close to covering the damages in the accident.
Look let's face it, we motorcycle riders are far more likely to be seriously injured or even killed in a motorcycle accident, then those who ride 4 wheel cars or trucks. Unlike the person in a car who has a metal cage around them, all we have is the helmet and clothes on our body to protect us. When we hit the ground at speed we tend to suffer more serious injuries.
It is smart and prudent for those of us who ride motorcycles to protect ourselves financially in case we are in an accident.
So you may ask how we protect ourselves financially in case we are in a motorcycle accident.
It is simple; we buy enough insurance to cover the risk of catastrophic injury in case we are in a motorcycle accident.
How do we buy the right insurance? It is simple, in California, most uninsured motorist coverage policies also cover under insured motorist as well. In other states or even California, you want to make sure you have uninsured motorist and under insured motorist coverage in an amount of no less than $500,000 dollars. I suggest that you have at least one million dollar uninsured motorist and under insured motorist coverage for motorcycle accidents.
Uninsured motorist coverage will cover you in case a person who is at fault in an accident has no insurance.
Under insured coverage, covers the difference between what the at fault driver insurance policy limits are and your coverage. It gives you the option of deciding how much coverage you will need.
I also suggest that you maintain high liability coverage limits as well (In case you are at fault) for your passenger in case you are in an accident where you are at fault.
Finally how do you cover yourself for an accident that you are at fault in? You can get comprehensive and collision coverage to cover your motorcycle, rental car coverage to cover your loss of use of your motorcycle, and medical payment coverage to cover your medical bills.
Most policies that I have seen only cover medical payments up to $10,000; however I am sure you can get more coverage depending upon how much you are willing to pay.
So there it is there are no more excuses for not enough insurance coverage to cover you in case you are in a motorcycle accident. Call your insurance agent and get yourself covered.
I do not want to find myself one day trying to explain to you why after you have suffered a million dollar injury, you will only get $15,000 in your motorcycle accident, because the person who is at fault only has minimal coverage, and no assets to pay you a million dollar judgment.
Besides, if you do get a million dollar judgment against an at fault driver, all they have do to is go bankrupt to get rid of the debt to you. The right insurance is almost always the only way to protect yourself financially in a motorcycle accident case.
If you or your family have been the victim of a motorcycle crash, truck crash, car crash, or other motor vehicle accident anywhere in California call us for a free consultation at 800-816-1529 x. 1, or go to http://www.thepersonalinjury.com.
By California Motorcycle Accident Attorney, and Biker Lawyer, Norman Gregory Fernandez, Esq., © September 18, 2011