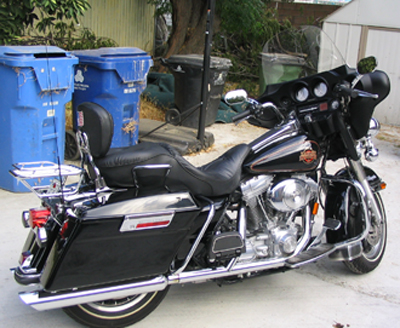 Governor Arnold Schwarzenegger has signed SB 435 into law which will require all motorcycles built after January 2013 to have EPA approved exhaust systems on their motorcycles.
Riders found without an EPA label certifying sound emission compliance will be issued fix it tickets, with additional infractions having fines up to $250.00.
Therefore, any motorcycle aftermarket exhausts or pipes that are not EPA certified will be illegal in California.
Many aftermarket motorcycle exhaust manufacturers will probably not have the money or inclination to get such a certification, so for all intents and purposes, after market pipes will no longer be legal in California.
If other States follow California with similar statutes then it may force manufacturers to comply with EPA regulations.
California will now basically enforce a 25 year Federal regulation which requires that all motorcycle exhausts be EPA certified.
I have been riding motorcycles for many years. I try to have exhaust systems that have some bark, but that are not too loud.
However, there are guys out there running open exhausts that are so loud that you cannot actually hear yourself talk as they drive by.
The State has now taken action to quiet our motorcycles down since we were unable to police ourselves.
What can be done to avoid SB 435? Keep your old motorcycles and do not buy anything new after 2013. Replace the engines, transmissions, and frames as needed.
Whatever you do, keep your stock exhaust systems just in case you do get a fix it ticket. Even if your motorcycle is not a 2013 or newer biker, we are still subject to noise laws here in California.
This bill will probably have an ominous effect on motorcycle sales in California. So again, we have do gooders enacting laws here that screw our economy.
What can we expect next, a motorcycle smog bill. I recommend that every motorcycle rider in the State of California join ABATE, so that we will have a voice in Sacramento.
By California Motorcycle Accident and Biker Lawyer Norman Gregory Fernandez, Esq., © September 2010