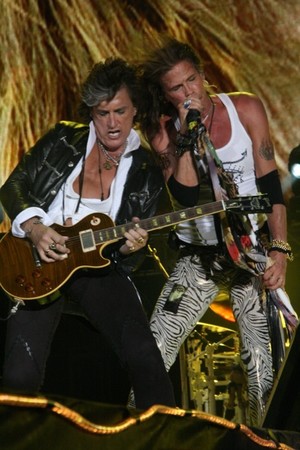 Long-time Aerosmith axe-man and creative collaborator Joe Perry has reportedly been treated and released after a motorcycle crash in Middleborough, Mass.
According to the Boston Globe, Perry was riding his 2009 Ducati when he was struck from behind by a 62-year old retiree, who was cited after the accident. Although he didn't appear to be seriously injured, he was transported to Morton Hospital and Medical Center in Taunton, Mass. at about 2 p.m. (EDT) on July 15.
Middleboro Police Officer Bradley Savage called the collision "a very minor motor vehicle accident," thanks in part to the fact that Perry was wearing a helmet.
After recently touring in South America and Europe, Perry, vocalist Steven Tyler and the rest of the band are preparing for their summer U.S. tour, "Cocked, Locked, Ready to Rock Tour," that begins on July 23rd in Oakland, California, and includes 17 other dates.
In a recent press release, Tyler said, "I thought it was time to get my MOJO back, by rockin South America and Europe with a little HOME RUN at Boston's Fenway Park thrown in and then off to the rest of America to do what we do best! We're gonna rock you into the middle of next week!"
Perry added, "This is a perfect time for us to tour North America as we are just completing a very successful tour of South America. We are looking forward to our European tour next month and then bringing our show back to our home soil. We are running on all cylinders and are "Cocked Locked and ready to Rock"!"
If you didn't know better, you'd swear that the fates are conspiring to keep one of the most successful American bands of all time from touring. Stage mishaps, alcohol and substance abuse, illness, injuries and feuding between Tyler and Perry have caused show cancellations and delays on recent tours.
Guitarist Brad Whitford missed part of last summer's tour after bumping his head getting out of a Ferrari; Perry had knee-replacement surgery in 2008; Tyler fell off a stage in South Dakota, breaking his shoulder; and bassist Tom Hamilton was diagnosed with throat cancer in 2006 and underwent radiation and chemotherapy. The band's representative, Liz Rosenberg, told the Boston Globe yesterday, "Joe is home and he's fine. All's well and we're all grateful."
Hopefully, this accident will prove to be only a minor inconvenience.