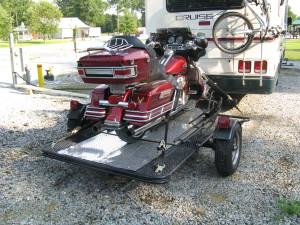 This review is long overdue, I am now finally able to share it.
Last year in July 2012 I purchased a Trinity 3-Rail Motorcycle Trailer from Theusatrailerstore.com .
You see I have never trailered any of my bikes ever, but when I planned my epic around the country motorhome trip, I needed a trailer so I could bring my motorcycle along.
I researched all different types of trailers. I looked at the Motorcycle Trailer in a Bag, the Kendon Trailers, Enclosed Trailers, and every type of trailer you can possibly imagine. I put a lot of time into finding the right trailer, at the right price.
I was almost set to pull the trigger on a used Motorcycle Trailer in a Bag, when I found the Trinity 3, from theusatrailerstore.com .
I contacted them through their website, they contacted me right back. The head guy gave me his phone number and I gave him a call. As it turns out, this company if located back east in the South, but they had a local distribution center right here in Southern California.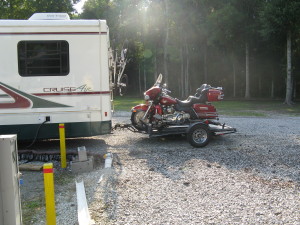 They offered me a brand new Trinity 3 for around $1,375, plus another $75 for a chrome spare tire. After all was said and done, this trailer looked a lot more beefier and safer for my new Electra Glide Ultra Classic than the Motorcycle in a bag, I told him I would come the next day to pick up the trailer.
At this time my motorhome was in the shop getting customized and I had nothing to pull the trailer with, so I rented a pickup truck for $75 plus tax so I could go pick up the trailer and pull it home.
When I went to pick up the trailer, it was literally brand new and just assembled at the distribution center. It was beautiful. To my surprise, the trailer folded up and could be stored upright like a Kendon, but it did not have the casters like the Kendon. This was ok with me since I was saving at least $2,000 right off the bat by getting this trailer.
This trailer was rated at 2,000 pounds, whereas the single Kendon was only rated at 1,000 pounds. My Electra Glide Ultra Classic is almost 1,000 pounds without rider or passenger.
This trailer also came with 3 Wheel Chocks. The owner even offered and shipped to me 3 lowered wheel chocks to accommodate the low fender on my Electra Glide.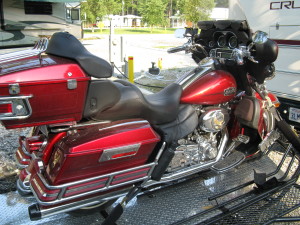 The manufacturer says that you can fit 3 small bikes, 2 medium bikes, or 1 bagger on the trailer at the same time. All I cared about was my Electra Glide.
Another issue I had was that on my trip I would need to load and unload my motorcycle from the trailer by myself, and I wanted to be able to ride my motorcycle up onto the trailer, since it was going to be only me, and my now ex on the trip, and I knew she was not going to be able help me getting it on and off.
Like Kendon, the Trinity trailer comes with its own ramp that is secured to the bottom of the folding part of the trailer by wingnuts. However in looking at it, I knew I would need a larger ramp just to make sure I could load and unload my motorcycle onto the trailer.
I ended up buying a beefy ramp I found on Amazon for about $200 that was rated at 1500 pounds and that was really wide, and had no holes for my feet to go through.
The owner of theusatrailerstore.com told me that I should take off the rubber caps from the wheel axels and lube them every 5,000 miles, however, in extreme heat, I should lube them every 3,000 miles.
He showed me how to hook up the trailer and the safety cables, and the electrical and I was off.
I learned on my own that when backing up with a trailer if your trailer is going left you need to turn left to straighten it and visa versa. I learned that the speed limit in California for persons hauling trailers is 55.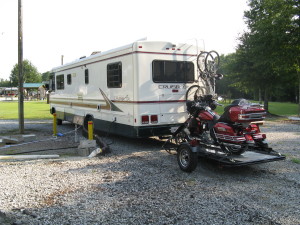 The owner of theusatrailerstore.com told me to keep my speed down as much as possible.
When I first got home with the trailer, I backed it up my driveway, unhooked it, found a space for it in the garage, then lifted it so that it was upright and not taking up too much space in my garage. When the lowered wheel chocks arrived, I installed them by unbolting the original ones, and bolting on the new ones.
When it was time for my trip on July 16, 2012, I hooked up my beefy ramp to my new trailer and rode my motorcycle up onto the trailer. When my front tire engaged the wheel chock, the motorcycle was locked in place. I was now able to get off and strap my motorcycle down.
I did my research before the trip so I knew exactly what to do. I purchased some Kuryakyn tie down brackets and installed them onto my front forks where the front fairing mounts to the forks. They are custom made for Electra Glides and give you place on each side to strap you bike down with.
I strapped the back two straps onto each hard luggage bag guard.
I had previously purchased the most expensive and heavy duty straps I could find, hell I was driving around the country, not just across country, so I only wanted the best. I got the 440 lb. 2" wide by 6' long Ratchet with snap hook kit. The kit also came with soft covers and soft loop straps. I paid around $100 for the whole kit which came in its own plastic case.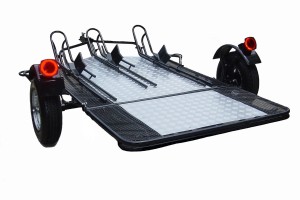 The first few times I strapped the motorcycle on and off of the trailer it took a while, but after my almost 2 month trip I became a pro and could do it real fast.
I had one major snafu in New Orleans when I was putting the motorcycle on the trailer. I was on a wet lawn, I had basic thongs on which become real slippery when wet. When I went to put the motorcycle on the trailer my thongs slipped and I dropped the bike halfway on the trailer and the ramp.
Thank god the bike did not fall off of the trailer or there would have been some real damage. After getting the motorcycle upright, I was shaken, but shocked to find literally no damage whatsoever on the motorcycle, the engine and luggage guards did their job.
The next few times putting the motorcycle on the trailers I was much more cautious.
The trailer did exactly what it was supposed to do with no problems whatsoever for over 8,600 miles on the trip. The tires held up, the trailer help up, no problem whatsoever.
The only real issues I had was because Camping World installed my new infrared back camera on the RV behind the stock Plexiglas housing, I became blind at night because the infrared reflected off of the Plexiglas.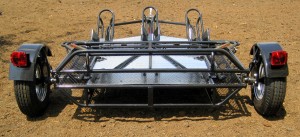 This became a major problem on a couple of areas on the trip because there was no way to see my small trailer at night without the camera behind a 35 ft. motorhome. My ex and I had walkie talkies and did our best when we had to.
I used the trailer on a few other major trips to the Las Vegas Bikerfest, the Laughlin River Run, etc. The trailer gave me no problems whatsoever, and was solid.
I give the Trinity 3 trailer and solid 10 out of 10 and highly recommend it to anyone who has a need to tow up to three motorcycles, and has limited space. The trailer folds and can be stored upright so it can be put into a small place in the garage.
Let it be known that I was not compensated, comped or paid anything for my review of this trailer.
POSTSCRIPT – I recently sold my Trinity 3 trailer for $1250, because I decided to get an enclosed trailer for the upcoming Sturgis Motorcycle rally. So in the end I basically paid $200 for my trailer and got around 10,000 miles out of her.
I also sold my beefy motorcycle ramp for $150 since my new enclosed trailer has a ramp door on the back and I did not need it.
By Biker Lawyer and California Motorcycle Accident Attorney Norman Gregory Fernandez, Esq., © June 30, 2013