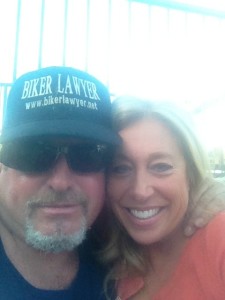 Last weekend I took a friend Yvonne for her first ride on the back of a Harley Davidson. As a matter of fact she has never ridden on the back of a motorcycle before.
The lead up to the ride was classic. She was excited, and scared at the same time. We discussed the ride for a week before actually taking it.
I have been riding for so many years that I take it for granted that everyone knows how to ride or be a passenger on a motorcycle. So when Yvonne expressed her anxiety over riding as a passenger and the potential danger involved, I realized I would have to school her about everything.
I first told her about the gear she would need, i.e., leather jacket, jeans, boots, helmet and gloves. I told her she could gear up online, or go to a local Harley Davidson dealership if she wanted.
I went with her to look at a few things. She informed me that she had a jacket, and jeans, and that all she needed was a helmet.
I ordered her a Hawk modular helmet with the built in sun screen and clear visor, so that sunglasses would not be necessary on the ride, all she would have to do is flip the latch like a fighter pilot, and  the sun visor would go down.
I could tell she was scared and excited.
On the day set for the ride which was September 21, 2013, I arrived at her house in the afternoon. She had arranged with one of her girlfriends whose old man has a Harley, to meet us at Cook's Corner in Orange County.
Due to my timing which was a bit late, her friend told her that we could meet up at a biker place in San Juan Capistrano instead of Cook's Corner.
When I got to Yvonne's home, her kids and across the street neighbor were all there to meet me, check out the motorcycle, and send Yvonne off on the ride.
It was great meeting everyone, but it delayed our ride for a bit as I answered questions about the motorcycle, etc. It distracted Yvonne as well, but what the hell, it was to be her first ride on the back of a Harley Davidson motorcycle and it was going to be fun.
Her gear was in fact not truly suited for motorcycles, it was more suited to high fashion. Her jacket looked like a leather motorcycle jacket, but it was in fact made of some other softer material. Her boots kind of looked like female motorcycle boots, but they were too thin for riding. She had those jeans that all the women are wearing that look like they have holes all over them. Hell when I was a kid, we made all our jeans look like that from playing, we did not pay for it, this is another story.
After I chastised her a bit about her motorcycle gear (it was all in good fun), I told her that next time she needed to gear up properly.
I then instructed her on how to get on and off the motorcycle, where to put her feet, telling her not to ever put her feet on the ground until I tell her it is okay, not to move her body around when the motorcycle is stopped, and to tap my shoulder if she needed to use the head, etc.
I then instructed her on her helmet. Since the Hawk Modular with two visors is an advanced DOT helmet compared to the fake brain bucket helmets out there, I took some time with her. I did not expect her to learn how to do everything with the helmet on the first shot, and she did not learn everything on the first shot.
It is me the rider of the motorcycle to ensure my passenger knows the rules and how to use everything.
She made a comment on the weight of the helmet. I told her she would get used to it. She did get used to it.
We finally took off on the motorcycle. I went slow on the streets of Coto de Caza where she lives. (This is the same place where all the "Real Housewives of Orange County" live.)
We then left the gated community and got on the street. I could tell she was nervous, hell it was her first time riding on the back of a motorcycle.
Shortly thereafter she relaxed a bit, but every time she got nervous she would give a little yell, or clench her legs tightly around me. I enjoyed the clenching the legs part J
We rode to San Juan Capistrano and had a good lunch. We then went over to this biker bar across the street, where I had an alcohol free O'Doul's, and she had a cocktail.
Later we rode back to her place.
Towards the end of the ride I could tell that Yvonne was much more comfortable on the motorcycle. She was a quick learner, and she conceded that she needs to buy a new pair of boots and a real motorcycle jacket.
I think she enjoyed the ride.
By Norman Gregory Fernandez, Biker Lawyer; California Motorcycle Accident Attorney, © October 1, 2013