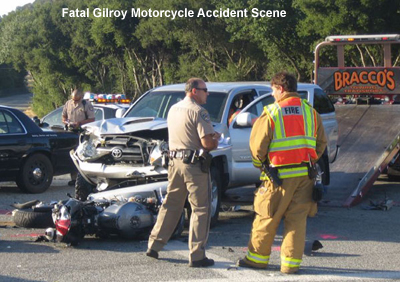 DUBLIN – California
The driver of a white BMW 2004 linked to a hit-and-run accident Monday evening on northbound Interstate 680 has turned herself in, according to the California Highway Patrol.
Sobhanieh Mostakhdemin, 25, of San Mateo, turned herself in Wednesday afternoon at the CHP's Dublin office and was arrested on suspicion of reckless driving and leaving the scene of an accident that caused injury, CHP Officer Steve Creel said.
Motorcyclist Robert Demartino Jr., of Livermore, was hit Monday on northbound Interstate 680 near Sunol Boulevard in Pleasanton, Creel said.
Witnesses said the driver of a white BMW had been traveling at more than 100 mph, nearly colliding with several vehicles. The driver began closely following a 2005 Chevrolet SUV before a curve in the highway, and Demartino was just ahead on a 2007 Suzuki GSX-R750.
The BMW struck the motorcycle's rear wheel and Demartino was thrown to the pavement, where he hit his head, Creel said. Demartino was taken to Eden Medical Center in Castro Valley, where he is listed in stable condition.
The BMW struck both the SUV and Demartino's motorcycle, but only Demartino was injured, Creel said.
Creel credited two eyewitnesses with getting the BMW driver's license plate number, which he said led officers to Mostakhdemin.
This women should be put in prison for a long time. She is a danger to society and bikers!
Gilroy – California
An unidentified 40-year-old Gilroy male was killed Tuesday evening after colliding with an SUV and an unidentified pickup truck in a hit-and-run accident.
The accident happened around 5:50 p.m. on the corner of Watsonville Road and Redwood Retreat Road.
Silver 2005 Silver Toyota Tacoma TRD Sport SUV, driven by a 31-year-old Santa Cruz woman, was traveling southbound on Watsonville Road at an unknown rate of speed and attempted to turn right onto Redwood Retreat Road, according to the California Highway Patrol.
A silver and black 2008 Honda Interceptor motorcycle was stopped at the stop sign on Redwood Retreat Road with an unidentified white Nissan pickup behind the motorcycle at the stop sign. As the Tacoma made an unsafe turning movement, it failed to maintain its lead and crossed over the solid double yellow lines of eastbound Redwood Retreat Road, impacting the motorcycle head on and forcing the bike to crash into the front end of the pickup.
The driver of the motorcycle was pinned underneath the right side of the motorcycle and was pronounced dead at the scene by Santa Clara Count Fire Paramedics. The roadway of Watsonville Road and Redwood Retreat Road was partially obstructed for about two hours. Driving under the influence is not suspected, and no arrests have been made as of Wednesday morning.
Police are still looking for the pickup that left the scene. Anyone with any info can call the Hollister-Gilroy CHP office at 848-2324.
These are just a couple of the many motorcycle accidents that happen in the State of California, and that usually only the family, friends, victims, and medical workers know about. I am putting these accidents on the Biker Law Blog just to remind everyone that riding season is upon us.
People in cars must remember to watch out for bikers and motorcyclist. We have a right to share the road just like everyone else.
If you or a loved one has been in a motorcycle accident anywhere in the State of California, you may call us for a free consultation 7 days a week, 24 hours a day at 800-816-1529 ext. 1.