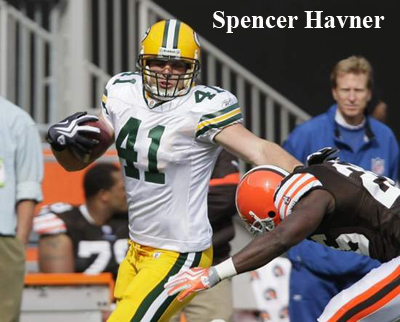 Green Bay Packers tight end Spencer Havner was arrested early Saturday morning after he was injured in a motorcycle accident in an unincorporated area of Nevada County in California.
According to the California Highway Patrol, the former Nevada Union High School star was riding on a cul-de-sac off Indian Flat Road at about 2:45 a.m., when he lost control of his 2007 Kawasaki and crashed.
Havner was transported to Sierra Nevada Memorial Hospital, where he was found to be under the influence and arrested, according to CHP reports.
"There was a smell of alcohol, he was babbling somewhat and the on-site investigating officer determined that he was under the influence of alcohol," said Grass Valley California Highway Patrol spokesman Eric Wagner. "The subject couldn't remember what happened or falling off."
Wagner said Havner, 27, was not wearing a required helmet and, according to the preliminary report filed by the arresting officer, Dina Hernandez, Havner sustained "major injuries," including a broken shoulder blade, lacerations to his head and left arm.
Wagner said Havner was transported to Sutter Roseville Medical Center after blood was drawn.
"The sobriety field test was limited based on his injuries," Wagner said. "But in the officer's opinion (his blood-alcohol level) was greater than 0.08 percent."
A final report will be forwarded to the Nevada County District Attorney's office, likely early next week, when it will be determined if charges will be filed.
Havner's representative, Mark Humenik, a general counsel for Athletes First, told the Milwaukee Journal Sentinel his client "suffered only minor injuries."
While Humenik confirmed Havner broke his scapula (shoulder), he should be fully recovered "in short order."
"We have spoken to Spencer Havner about the injuries he sustained in a recent motorcycle accident near his home and we are monitoring the situation," Packers spokesman Jeff Blumb said in a statement.
Nevada Union coach Dave Humphers, who mentored Havner, was shocked by the news. He said he has yet to talk to Havner.
"I just hope he's OK," Humphers said. "Spencer has always been a solid guy. He's never been in trouble of any kind."
Havner starred at UCLA but was undrafted in 2006. The 6-foot-3, 250-pounder spent parts of three seasons trying to make the Packers as a linebacker. Last season, Havner, nicknamed "Duct Tape" for his ball-catching skills, switched to tight end and caught four touchdown passes.
The Packers offered Havner a tender as an exclusive-rights free agent earlier this month.
Let me tell you that Spencer Havner is lucky to be alive. To be frank he is an idiot for drinking and riding a motorcycle, let alone without a helmet. The injuries he suffered are painful and severe. I am sure the driving while under the influence will be the least of his problems.
Under no circumstances should anyone ever drink and ride a motorcycle, especially without wearing the proper safety gear.
I know lots of guys who enjoy one or two beer while on motorcycle road trips, thinking that only a couple of beer will not impair them; well B.S. it does.
There is no room for error while riding a motorcycle. I wish Spencer Havner a full and speedy recovery; hopefully he has learned his lesson about drinking and riding a motorcycle. Many bikers and motorcyclist do not ever get a second chance.
By California Motorcycle Accident Attorney and Biker Lawyer Norman Gregory Fernandez, 2010