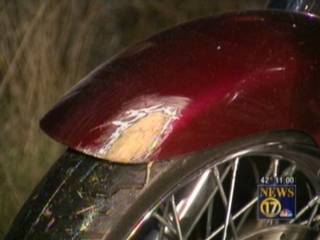 A suspected dui-related motorcycle crash northeast of Bakersfield has killed one person on this Christmas 2009.
The Highway Patrol says the person killed was a passenger on the motorcycle, and was airlifted to Kern Medical Center. However, that person did not survive the injuries from the motorcycle accident.
It happened just after 4:30 p-m on Granite Road at Round Mountain Road. Investigators say the driver of the motorcycle was heading east on Granite Road and lost control. Both the driver and the passenger were thrown from the bike. The driver of the motorcycle hit a fence, the passenger hit a pole. "The passenger sustained fatal injuries and the driver sustained moderate injuries. In the early stages of the investigation it appears that alcohol is related," said Sgt. Jeff Crosswhite, California Highway Patrol.
The Highway Patrol says both were wearing helmets. The driver was also taken to Kern Medical Center with moderate injuries. Officers say the driver may have felony dui as well as manslaughter charges.
This is a horrible accident that did not have to happen. I will say this very clearly; IF YOU HAVE HAD ALCOHOL DO NOT RIDE A MOTORCYCLE PERIOD. IF YOU ARE A PASSENGER, DO NOT GET ON A MOTORCYCLE WITH A RIDER WHO HAS BEEN DRINKING PERIOD.
Alcohol and motorcycles flat out do not mix. Hell you need to be on your game sober to ride safely. Can you imagine how dangerous it is to ride after drinking?
If you or a family member have been the victim of a motorcycle accident, or you were a passenger injured in a motorcycle, or you have had a family member killed in an accident call my law firm ASAP for a free consultation at 800-816-1529 x. 1 or check out my website at http://www.bikerlawyer.net .
By Bakersfield Motorcycle Accident Attorney and Lawyer Norman Gregory Fernandez, 2009