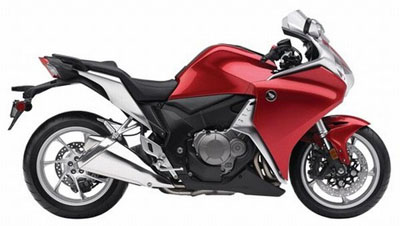 For many, California was the center of the motorcycle performance universe yesterday as American Honda Motor Company's Powersports Division revealed the much-anticipated 2010 VFR1200F.
The first V4 concept was seen at the Cologne Motorcycle Show in 2008 with yesterday's latest model the resulting bike. The 2010 VFR1200F promises the next generation of motorcycle technology, aimed at older riders who are looking for the thrills of back road curves rather than the adrenaline rush of track day.
The latest in Honda MotoGP engine technology and architecture features a light and compact 1237cc liquid-cooled 76-degree V-4, mind-boggling Throttle By Wire, smaller cylinder heads and the latest innovation of optional Dual Clutch Automatic Transmission with manual mode and automatic mode with two D/S modes and paddle-style shifters.
The new model promises GP technology layer-concept aero fairing and next-generation shaft drive system with offset pivot point and sliding constant-velocity joint for a new level of shaft-drive performance and control.
The VFR1200F's four-valve-per-cylinder engine offers an offset crankpin to eliminate primary engine vibration and an electronic throttle system named 'Throttle By Wire' features linked ABS (Anti-lock Braking System) brakes.
"This is one of the most exciting motorcycles in Honda's history," said Powersports Press Manager Bill Savino.
"The VFR1200F establishes a whole new definition of performance motorcycling, one that taps into Honda's rich V-4 VFR heritage and extends it into the future of Honda motorcycling. The new technology within this motorcycle is flat-out amazing and it all works together in a manner that takes the VFR1200F strides forward in how a high-end machine looks, works and feels. This is a sport motorcycle that will leave you smiling and ready for more even after you've been riding for hours on end."
This motorcycle looks to me like it will be a fun motorcycle to ride in the twisties, especially with the automatic transmission. I cannot wait to see more viable options in the cruiser market with respect to automatic transmissions.
California Biker Attorney and California Motorcycle Accident Lawyer