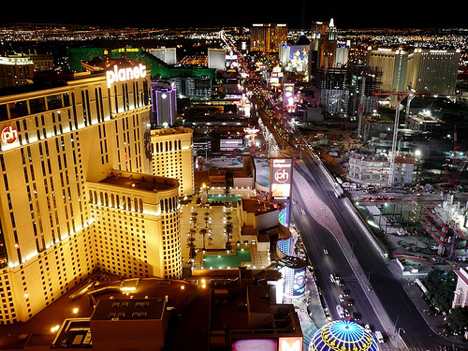 *** 7/10/09 Update – I am going to insert a comment from a Biker Law Blog Reader named Sam below. I feel that his update is succient and to the point. Here it is:
Comment from : sam [Visitor]
i just wrapped up a trip that ended up in las vegas for a week recently. we have been going to vegas for the past 15 years. the last 3 years i have seen the slow decline in service,decreased payouts-or tight slots, lack of people filling up the machines. etc. the taxi drivers are dying a slow death trying to keep their escalades and limos on the street-practically begging for tips each time you enter their vehicle.
At the circus circus they lived up to their 'circus' name recently. all the elevators were down, off and on for three days we spent there. people were stranded in elevators that would not open etc. we waited over 30 minutes a couple times to get on an elevator only to get stuck ourselves. i'll never stay there again. its the same old run down room in the west tower it was 15 years ago. carpets are filthy, brass is nearly worn to the nickel plating, painted areas are filthy…at the mandalay bay had backed up toilets and sinks for a couple days. service is also lousy.
if you look at the skyline you will see at least 10 cranes proudly standing in the air that have not moved since october last year! thousands of construction workers have been layed off-and if you look around long enough you will find a completed casino–but the doors have never been opened.might as well wrap the casino up in plastic wrap like they are doing to the empty condominiums right now.
will las vegas make it out of the recession? yes. but it will entail alot of bancruptcys and mergers.
beaware saudi arabia owns the new city center the great mgm started. every time we spend a dollar in vegas you may as well send it to the saudis.i think there are only 3-4 stand alone casinos in vegas now that is not somehow owned by the saudis…..something to think about.
if i were to visit vegas again today i would stay at new york, new york or the mgm. they are much cleaner, service is nice, and for the location you will be closer to everything else you want to do there…..good luck all
My fiancé and I visited Las Vegas last week for a little mini vacation. I was absolutely shocked at what I saw. Basically, Las Vegas was empty. There was still the ubiquitous building on the strip, and tourist walking on the strip, however, it was not the same.
The casinos were empty and basically dead, the slot machines were as dead as doornail's, the excitement that used to permeate the Las Vegas strip is gone. Hell, there is more excitement at the local casino in Temecula.
Before we went to Las Vegas, I heard that Las Vegas was the emptiest city in the country with respect to vacant houses. This report was confirmed when my fiancé and I went looking for a few houses for investment purposes. We actually saw a really nice three bedroom house that could be had for $69,000. The same house previously sold for around $300,000. Imagine, being able to buy a house for only $69,000.
Watching local news in our room, we heard reports about the Hooters Casino being able to make their payment and stay open, but other local businesses losing thousands of jobs. The doom and gloom of our economic crisis is certainly in the air Las Vegas.
On a good note, I observed many bikers and motorcyclist riding all types of motorcycles. Unfortunately, I was stuck in my cage for this trip. It always bums me out to see bikers, motorcyclists, and everything on two wheels passing me by while riding in my car. I guess you can't ride your motorcycle all the time.
At least I can say that I contributed to the Las Vegas economy; I dropped about $500 to the blackjack tables, and slot machines. My fiancé lost about the same amount of money.
This is one of the few  Las Vegas trips, where I was really happy to leave. The Las Vegas of old is gone. I am not that old, however, I can remember the good old days, going to Las Vegas, dressing up for a night on the town, and being treated like royalty at the Desert Inn. We did see a few people formally dressed at the Venetian; however it is all tank tops and shorts.
If you want to buy a really cheap house, go to Las Vegas, Nevada. However, I am not quite sure that Las Vegas Nevada is going to survive. Let's hope I am wrong!
By California motorcycle accident attorney Norman Gregory Fernandez, © 2009