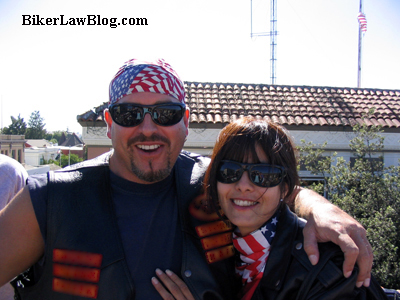 My fiancé and I had a great time riding with some of my club brothers and friends Sunday. It was a great Sunday. A friend and I decided to take off and ride to Angeles Crest from Marina Del Rey.
We rode the 10 freeway, east, to the 110 north, to the 5 north, to the 2 north, headed toward the 210 and the Angeles Crest Highway.
Some idiot for some odd reason seemed to intentionally almost hit me from behind. Maybe he does not like bikers? It happened so fast, the only thing I could do is turn my head to give the guy a stare. I was wearing a full face modular helmet, with my sunglasses on underneath, but I am sure the way I zipped my head around this guy knew that I knew what he was doing.
Instead of backing off, he kept coming. Mind you, my friend and his old lady were behind the car at this point and could see everything. My old lady was riding shotgun on the seat behind me. I moved to the extreme left part of the lane to avoid being hit by this asshole.
He then proceeded to pass me "IN MY LANE." I looked over and saw what I think was a Korean guy. He proceeded to "stare me down" while he was in my lane and I was in the extreme left portion of the lane.
I knew if I kept staring this guy down, he would have probably swerved over and taken my old lady and I out. This asshole basically assaulted us with a deadly weapon. I am quite positive that under the circumstances, I could have used deadly force against this asshole because he almost killed us, and he used his car as a deadly weapon against us.
I slowed down, and he accelerated and took off. I tried to get his license, but I could not. He was in a Black Lexus.
If any other bikers near the 5 and the Glendale Freeway have been the victim of an Asian guy driving a Black Lexus, let me know.
I have been riding motorcycles on public streets for around 28 years, and have never had such a bizarre incident happen to me before while riding. Especially when I have my old lady on the back of my motorcycle.
My fiancé and my friend probably do not realize how close this asshole came to taking us out. Lesson learned and reiterated; motorcycle v. car = motorcycle losing. Thank goodness, I kept a cool head and simply let this asshole pass.
My friend's old lady was not feeling well so they went home. My old lady and I ended up freezing our buts off on a ride up to 8,000 feet and Newcombs Ranch, for a late lunch next to their fireplace, alive to ride another day thank god!
By California Motorcycle Accident Lawyer, Norman Gregory Fernandez, © 2009