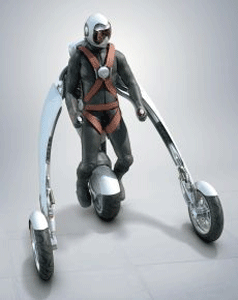 My friend Ed from Blawg Review recently sent me an article about a wearable motorcycle. You can see a picture of the design on the upper left.
When I read the article, I thought to myself, wow, this would be a cool thing to ride. The design of the wearable motorcycle may not be practical, but it sure is cool.
The designer of the wearable motorcycle states that you would simply step into the wearable motorcycle, and strap it on to your body. The design would run off lithium ion batteries, and would be capable of speeds up to 75 mph.
Could you imagine riding this wearable motorcycle through the canyons?
You can check out the article Ed sent me, along with a video animation showing the design of the wearable motorcycle by clicking here now.
By Norman Gregory Fernandez, California Motorcycle Accident Attorney, © 2008