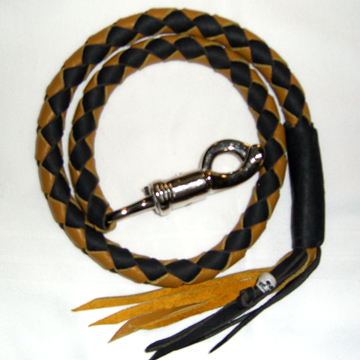 *** 10/24/2008 Update
I have heard of a case out of Hollister, California where a prosecutor is trying to convict someone of sales and possession of an illegal weapon, i.e. a Biker Getback Whip. The Prosecutor is claiming that the Getback Whip is a Slungshot and therefore illegal under California Penal Code §12020. A slung shot has been defined as a weight, as a stone or a piece of metal, fastened to a short strap, chain, or the like, and used as a weapon. Most Getback Whips have metal fastener on the end that is used to fasten the whip to the clutch or brake lever on motorcycles. My personal opinion on this matter is that the prosecutor is reaching big time here, to try to set a precedent that the Getback whip with a metal fastener on the end is in fact a slung shot. We will have to wait to see the outcome of the case. In the meantime, if you have a Getback whip attached to your motorcycle as decoration, you may want to reconsider having one for now!
After a recent incident here in Los Banos, California, I received an inquiry as to whether an Old School Biker Whip is Illegal in the State of California. I was also asked if the use of the Old School Biker Whip is a crime.
Well first off many of you are probably wondering what an Old School Biker Whip or "Getback" whip is.
There is a history behind the old school biker or "getback" whips.
In the past and in the present, you may have seen bikers and motorcyclist with biker whips attached to their motorcycles. The Biker Whips are attached to the motorcycle by way of the clutch or brake levers.
The whips usually made from leather, can be a decorative display, or display a bikers motorcycle club colors.
A biker whip can be quickly released and used "in case of emergency" as well.
Presently many bikers still hang whips from their controls including a few of my brothers.
Many mainstream bikers and motorcyclist hang whips from their controls for decoration. Here is a website that sells all types of Biker Whips.
The issue is whether they are legal in the State of California.
The short answer is yes and no. A Biker Whip is not banned by California Penal Code §12020 so they are most likely legal. However, if the whip is used in the commission of a crime, than it is most likely illegal in that circumstance.
Hell even your finger can be construed as an illegal weapon when used during the commission of a crime in the State of California, under certain circumstances.
Therefore, no one should be getting arrested or busted in California for hanging a biker whip on the controls of their motorcycle; at least that is my opinion based upon the present law as it stands now.
California Penal Code §12020 articulates what weapons are banned in the State of California. It states in Part that:
(a) Any person in this state who does any of the following is punishable by imprisonment in a county jail not exceeding one year or in the state prison:
(1) Manufactures or causes to be manufactured, imports into the state, keeps for sale, or offers or exposes for sale, or who gives, lends, or possesses any cane gun or wallet gun, any undetectable firearm, any firearm which is not immediately recognizable as a
firearm, any camouflaging firearm container, any ammunition which contains or consists of any flechette dart, any bullet containing or carrying an explosive agent, any ballistic knife, any multiburst trigger activator, any nunchaku, any short-barreled shotgun, any
short-barreled rifle, any metal knuckles, any belt buckle knife, any leaded cane, any zip gun, any shuriken, any unconventional pistol, any lipstick case knife, any cane sword, any shobi-zue, any air gauge knife, any writing pen knife, any metal military practice
handgrenade or metal replica handgrenade, or any instrument or weapon of the kind commonly known as a blackjack, slungshot, billy, sandclub, sap, or sandbag
Since there is no mention of a whip being illegal in the code, it should therefore not be illegal. However, if you use it in the commission of a crime all bets are off.
** Please see the above update. A prosecutor out of Hollister, California is trying to prosecute someone for sales and possession of Getback whips, by saying that they are actually Slungshots. So far there is no outcome. You may want to reconsider having one attached to your motorcycle until a verdict is reached in the case!
By California Biker Rights Attorney Norman Gregory Fernandez, © 2008