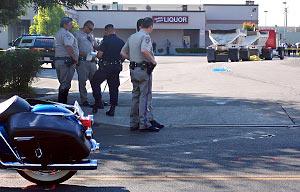 City of Industry, California – A motorcyclist was killed Friday after being struck and dragged by a big rig truck, authorities said.
The crash occurred about 6:40 a.m. on Turnbull Canyon Road, just north of Gale Avenue, in The City of Industry, said California Highway Patrol Sgt. Robert Headden.
The victim was initially described only as a local man in his late 30s or early 40s, Headden said. His name was not released pending notification of family members.
The rider was northbound on Turnbull Canyon Road on his Harley-Davidson Softail motorcycle when the collision occurred, Headden said.
A big rig fully loaded with gravel was southbound on the road and made a left turn into a parking lot, Headden said.
The motorcycle collided with the passenger side of the truck, and the rider fell of his motorcycle and became wedged beneath one of the truck's tires, Headden said.
The truck continued forward, dragging the motorcyclist about 100 to 200 feet before coming to a stop in the parking lot, CHP and fire officials said.
The rider's arm was severed in the crash, and his leg was nearly severed, said Los Angeles County Fire Department Firefighter Ray Montanez.
"(The truck driver) didn't know he was dragging him," Montanez said. The truck only stopped after bystanders flagged it down and told the driver about the man lodged under his truck, authorities said.
The victim suffered traumatic injuries to much of his body and was pronounced dead at the scene, Montanez said.
The damage to the motorcycle was minimal, he said.
The truck driver had not been cited or arrested Friday afternoon, Headden said. The cause of the crash remained under investigation, he said.
Although the crash is under investigation it appears to me that if the truck was making a left turn, and the motorcycle rider hit the passenger side of the truck, the truck most likely turned in front of the motorcycle rider and was therefore at fault. However, I must state that I am making simple deductions. I am sure more facts will come to pass as the investigation is completed in this case.
You MUST watch out for idiots who will turn in front of you when riding your motorcycle, even big rig trucks!
God be with the victim in this fatal motorcycle accident.