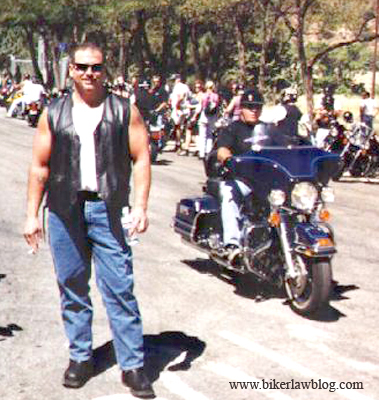 This article is an opinion editorial and rant piece. If you do not want to hear me rant about what I will call idiots against bikers then do not read this article.
First off I will talk about a moronic woman named Melissa Arrington, age 27 who was sentenced to 10 and ½ years for negligent homicide and aggravated drunk driving, because the judge in her case found out that she was laughing about running over a bicyclist in her car, and dragging him 800 feet to his death. No one apparently warned Melissa that her calls in and out of jail were monitored, and when she was caught laughing about killing a bicyclist, it was turned over to the Judge. She could have received less than 4 years on the charges, but I guess the Judge got pissed off when he heard the tape of her laughing! You can read the original article by clicking here now.
I will just say this. Everyone who knows me knows I am into Bikers Rights. The way I see it a person on a bicycle has the same rights to share the road as a person on a motorcycle. The victim in this case was a 45 year old man who simply took his bicycle out for a ride one evening and was the victim of a homicide at the hands of a drunken cager named Melissa Arrington. Kill a biker go to jail, this applies to bicyclist too!
The next winner I am going to talk about is a personal injury lawyer whose bullshit rantings were brought to my attention by Biker Law Blog readers. His name is Stephen D. Lombardi of Iowa. He apparently advertises on Injuryboard.com which is a service that charges attorneys big bucks per month to be listed on their site for exclusive areas. In other words when you go to injuryboard.com or most other lawyer directories you are going to find lawyers who pay big bucks to be listed there. Just because a lawyer pays big bucks to be listed does not mean you are getting the best lawyer in town if you know what I mean. Read some of my articles on selecting a motorcycle lawyer, or other personal injury lawyer.
Now I am not in anyway impugning Mr. Lombardi's abilities as a lawyer. I do not know him or his work. He may be the best personal injury lawyer in Iowa, I have no clue. But I will say this; by his own writings he is no friend to bikers and motorcyclist. If you read his article that is posted here you will see full well that Mr. Lombardi supports discrimination against bikers and motorcyclist. He is endorsing mandatory helmet laws for bikers as well as mandatory insurance requirements for bikers. He might as well work for the insurance industry! Then, on his own website, he states that he represents people in motorcycle accidents. Click here and you will see what I mean. To cover himself he then wrote another article which you can read here. Apparently the biker community has caught on to his articles because they have been sending me links to this Mr. Lombardi.
All I can say is this; it is not good business to attack your own clients, or to endorse discrimination against those that you mean to represent.
I will let the biker and motorcycle community decide and make their own decision on this issue. I for one am a straight shooter. I am not one to bite the hand that feeds me. I am sure that Mr. Lombardi would appreciate comments from you bikers and motorcyclist in the biker community telling him what you think about his articles!
By Norman Gregory Fernandez, Esq., © 2008