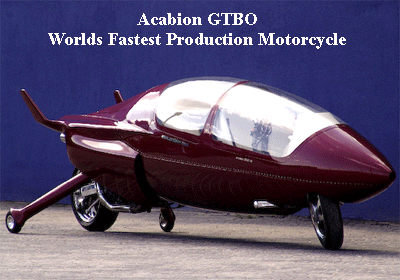 My friend Ed from Blawg Review sends me interesting motorcycle related links from time to time, something that I really appreciate.
He sent me a link to an article about the motorcycle that you see pictured here. The motorcycle is an Acabion GTBO, which has a turbo charged Hyabusa engine that produces 750 horsepower. This motorcycle will roll from 0 to 300 miles per hour in 30 seconds!
You can own this wonder for around $2.7 million dollars U.S, there is around a three year wait for your motorcycle to be built.
I don't know about you, but I would love to take this thing to the Bonneville Salt Flats and see what she can do. Other than that, I cannot see any real world applications for a motorcycle that runs 340 miles per hour.
I do not think this motorcycle is street legal if you know what I mean. If any of you have ridden this wild motorcycle let me know. I sure would like to hear a 1st person prospective on what it is like to do 340 miles per hour on a motorcycle!
Click here to see the original article that Ed sent me.
By Norman Gregory Fernandez, Esq., © 2008