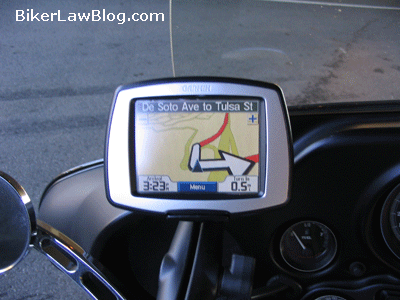 ** 4/28/2010 Update – I switched to a Garmin 755t from the Nuvi 350 about 6 months ago. The 755t has a wide screen, and wireless FM transmitter which allows me to tune the music in without having to use a cable into my auxiliary. There are many more features on this GPS, it also has built in lifetime free traffic. I got the unit for a hundred and some change on ebay, and am using the ram mount on the handlebar as usual.
** 2/12/08 Update – I lost my Garmin C330 when I forgot to take it off of the trunk of my car – long story. I am now using a Garmin Nuvi 350. The Garmin Nuvi 350 uses a different Ram Mount holder but everything else is the same.
Well I have managed to ride my motorcycle and drive my car for many years all over the nation using old fashion maps, printing out directions on Mapquest, and/or otherwise winging it; well no more, I have entered the 21st Century; I now use a GPS unit.
I decided to buy a portable GPS system a few months ago and all I can saw is "why did I wait so long!"
First off this article is not going to discuss all of the options and things that a GPS system on your motorcycle and car will do. If you want to learn about GPS systems, I am sure a quick Google search will bring you up to speed on GPS systems and their features. The purpose of this article is to discuss what I wanted in a GPS, what I looked at, what I purchased, how I mounted it on my motorcycle, and what I think.
When I went about searching for a GPS system, I wanted a unit that I could use on my motorcycle, car, or any other motor vehicle that I wanted to ride in; a unit that was portable and not permanently installed.
I went to a bunch of motorcycle and GPS forums to see what others were saying. I also looked at professional reviews on sites such as ZDNet, and purchaser reviews from sites that allow their customers to review the units they purchased. On top of everything else a bunch of new manufacturers have recently entered the GPS market.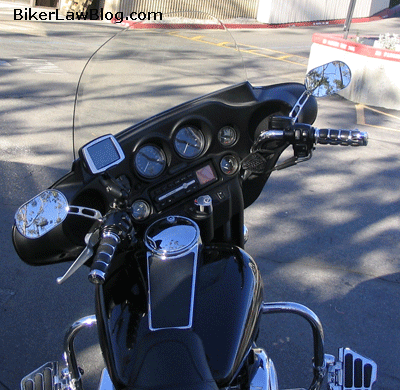 My initial impression at least from what I learned in my search was that the leading GPS brands were Garmin, Magellan, and TomTom. I could not find anything really good about the new manufacturers in the GPS market game. Guys from electronic stores who were in the know such as Fry's Electronics told me point blank on the phone and in person to stick with Garmin because they were in industry leader, and they have less returns of Garmin units. I was also told that Magellan and TomTom were good, but that Garmin would be my best bet.
On the internet I found a site which discussed the mapping software that Garmin, Magellan, and TomTom GPS units use, and I found that the software used in the Garmin and Magellan units was supposed to be better for North America than the TomTom units. It is said that the TomTom software is supposed to be better for Europe. Since I do 99.99% of my riding in North America I wanted the best mapping software for North America.
The next issue I considered was whether to buy a waterproof unit to use on the motorcycle and in the car, or should I just buy a regular unit to use for both. By regular, I mean one that is not waterproof. I looked at the Garmin Zumo 550 GPS which is specifically designed for motorcycles, is waterproof, and comes with a motorcycle mount. There is even a Zumo forum for users of the product. The cheapest price I could find on the unit was around 500 bucks plus shipping from online shopping sites. When doing research on this unit on the Zumo forum, I found that many purchasers were having major problems with the unit which were causing them to have to do reboot's of the unit, or which were causing the units to die on the road. Apparently there is some kind of bug with the unit and many guys on a particular thread were reporting that they got units with the bug. There were many other guys that said their units were ok. In my mind I am not going to pay 500 dollars for a GPS unit that has a known bug, or that would be a hit and miss. I wanted a unit that was free of bugs or problems and would work. I don't care if the GPS unit is designed for motorcycles or not at that price. Bottom line, I am not going to dish out 500 dollars plus for something that may be buggy.
I then looked at the TomTom Rider which was another unit specifically designed for motorcycles and comes with a motorcycle mount included with the unit. The best price for this unit was also around $500.00 from online merchants, however as written above, I found people saying that the mapping software in the TomTom units for North America was not as good as in the Garmin units.
I then decided to look at units that were not specifically made for motorcycles. This is where my search for a good GPS unit for my motorcycle and car took a turn. I realized that the features and functionality for non motorcycle specific GPS units were substantially cheaper than the ones that were made specifically for motorcycles. In other words, I could have a GPS unit with the same features as the motorcycle specific GPS units for hundreds of dollars less, the only difference being that they are not waterproof.
Where I live in Southern California it does not rain often, and to be quite frank, if and when I do ride in the rain which is not very often, the last thing I would be paying attention to on a motorcycle is a GPS! I have stated in other articles here on the Biker Law Blog that I do not ride in the rain unless I have to. When I do ride in the rain, all of my attention is spent on keeping the bike on two wheels, and making it to my destination safely. This is the subject for another article! If it is raining or starting to rain, I could simply put the GPS into a waterproof bag until the rain stopped.
In looking at the non waterproof GPS units I decided that I was not willing to pay two to three hundred dollars more for a GPS unit that is really only good for the motorcycle. I wanted a unit that was interchangeable to any vehicle. Besides, there was no way I was going to leave the GPS unit on the motorcycle when it is parked anyway. I wonder how long it would take a thief to rip off a 500 dollar GPS unit that is mounted on the handlebars. I wanted to be able to detach my GPS unit from the motorcycle when it is parked and either carry it with me, or lock it in the tour pak or saddlebags. There is no way in hell I am leaving it on the handlebar mount for a thief to rip off unless I keep the motorcycle in my line of site somewhere such as a gas station or a café.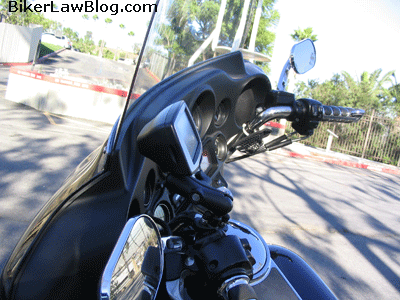 I narrowed my search to non motorcycle dedicated Garmin and Magellan GPS units. This is when I saw a great advertisement from Fry's Electronics for a refurbished Garmin C330 StreetPilot GPS unit for $179.00. (It was advertised on their website for $159.00 but there was no way to buy the walk in warranty on the website!) For an additional $15.00 I could get a walk in 3 year replacement warranty. The unit basically had everything I wanted in a GPS unit except for text to speech, and traffic advisories built in.
Text to speech on GPS units is a feature whereby the GPS unit will say the street name instead of just telling you to turn left. Traffic advisories are a function that is supposed to give you updated traffic conditions in certain geographic areas, and allow you to supposedly route around the traffic conditions.
I decided that I did not need text to speech. The Garmin StreetPilot C330 tells you in a voice prompt to turn left, turn right, etc. This works for me. On a motorcycle, it is doubtful that you will hear the prompts anyway at highway speeds, especially on a Harley Davison. All the reviews I have read about the traffic advisories on the GPS units were spurious at best. Some people reported that the advisories were not updated quickly enough to be of any use, others reported that the service was not reliable, etc. On a motorcycle, I am not worried about traffic; I can split lanes if I have to. In the car, I can listen to traffic reports on the radio. I decided that this was not a fundamental feature for me at least for now. Although it may be something I would be interested in, in the future when it actually works!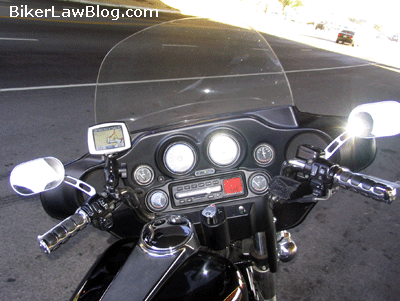 I decided to purchase the Garmin StreetPilot C330 after doing much research. The list price of a new unit at the time was $299.00. The refurbished unit from a reputable electronics store was $179.00, with the same one year factory warranty as a new unit. I also purchased the 3 year extended walk in replacement warranty for an additional $15.00. My reasons were very simple;
(1) The Garmin StreetPilot C330 GPS had all of the GPS features that I decided I really need such as voice guided turn by turn directions, color touch screen, six million points of interest built in, USB firmware and map upgrades, etc.;
(2) The Garmin StreetPilot C330 GPS has a built in 4 hour battery that allows it to run without having to be connected to constant power;
(3) The Garmin StreetPilot C330 GPS can be easily moved from Car to Motorcycle or any other vehicle;
(4) The Garmin StreetPilot C330 GPS uses flash memory instead of an internal disk drive which I felt would be better for the vibration of a motorcycle; and
(5) Price! At $179.00 I could get an excellent GPS and not have to spend 500 dollars plus for what I though at the time would be a toy that I did not really need.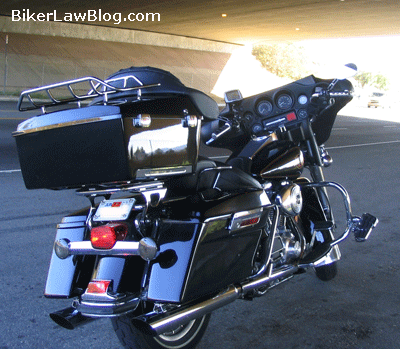 Just for the record, I am a biker and motorcycle lawyer, I have received no money or any compensation from Garmin or Fry's Electronics whatsoever for this review. I am just telling it like it was and is on my own accord to maybe help some of you in your choice for a motorcycle and car GPS.
I decided to walk into Fry's Electronics and purchase the GPS unit and the extended warranty rather than buy online just in case I needed to return the unit or bring it in for a warranty replacement. I usually do this with all of my major electronics purchases. Although I do not consider $179.00 a major electronics purchase, I did not want to have to deal with waiting for shipping to get the unit, or shipping it for a return if the unit did not work out or needed warranty service. The guys at Fry's Electronics were real knowledgeable and spent lots of time with me when I went in for the purchase. While there I also purchased a padded case by Garmin to keep my GPS unit in when it is not in use. (I have since dropped the unit multiple times on the pavement while it was in the padded case, and the unit still works with no damage or problems. I have not dropped the unit out of the case.)
Inside the Garmin StreetPilot C330 GPS box was a USB cable; quick start manual; software; a suction mount cradle for windshield installation on a car; a cigarette lighter power adapter that plugs into the suction mount cradle to power the unit from your car, and a metal disk with strong adhesive tape to affix to your dashboard in States such as California that prohibit you from affixing anything to your windshield. This is basically a plug & play unit.
After reading reviews of the disk that affixes to your dashboard for mounting, I opted to not use it because I read that it is very hard to take off, and will damage your dashboard or even rip the dashboard in your car if you try to remove it. Since I drive a luxury car, this was not an option for me.
This left me with two dilemmas; how to mount the unit in my car and motorcycle.
For the motorcycle mount I purchased a mount from Ram Mount that is an exact match for the cradle on the Garmin StreetPilot C330. You can see the mount in the picture, and you can see exactly what I purchased by clicking here. The Ram Mount part number is RAM-B-149Z-GA19U. The total cost was around 45 dollars with shipping. It looks like the cost has gone down a bit. The mount works perfectly on my Harley Davidson Electra Glide. This mount does require you to use the power adapter from the suction mount kit that comes with the Garmin StreetPilot C330 unit if you want to connect it to power on the motorcycle. No big deal since I was not going to use the suction mount kit on my car anyway.
For the car mount, I opted to purchase what is called a friction mounting system. The Garmin part number is Garmin 010-10613-00. You can see it by clicking here. The friction mounting system basically is a heavy mounting system that uses none skid pads to put on your dashboard. It will adhere to any shape dashboard, and can be removed at will and moved to another vehicle if you want. It uses weight and non skid pads to keep it in place, rather than suction or glue. It actually works! The friction mount comes with its own separate cigarette power adapter. After searching online I found a great deal for the dashboard friction mount. I got if for around 35 dollars with tax and shipping.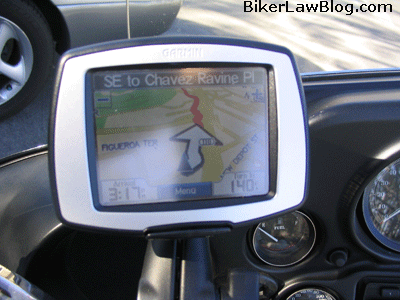 Finally; my review of the Garmin StreetPilot C330.
When I got the Garmin StreetPilot C330 home, I read the quick start instructions, installed the software, and then plugged the unit into my USB port on my computer. I registered the unit online at the Garmin website and then checked to see if there were any firmware updates or map updates that needed to be done. Low and behold there was a firmware update for my unit so I proceeded to update it. The Garmin website told me that there was a map update for my unit as well and that it would cost around 69 dollars. I was pissed off to say the least. I expected that if I just bought a factory refurbished unit it that it would have the latest maps installed. After going back and forth with Garmin via email, and checking on the internet, it turns out that my unit did have the latest free maps come with all Garmin units, and are called Version 8, but the maps were about a year to two years old, and were not as detailed as the maps that Garmin is selling which is called North America 2008 which is current. Sometime next year all Garmin units will have Version 9 installed, but these maps are not as detailed as North America 2009, etc. This apparently applies to all Garmin Units new or refurbished. I ended up going to Best Buy and purchasing the North America 2008 maps because I wanted the latest and greatest maps in my GPS. This is one pet peeve with Garmin units; you have to pay for upgraded maps if you want current maps. Some other manufacturers give free map updates.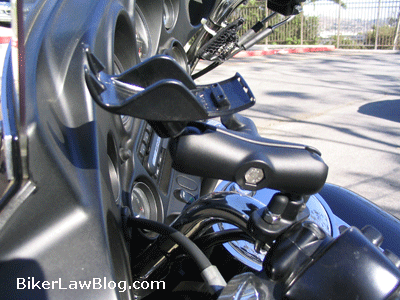 First, I installed the Ram Mount on my Harley Davidson Electra Glide in a position where I thought that it would work best. The position you can see from the pictures is perfect because it does not block any of the instruments in the fairing; the unit is below the windshield on the fairing for some protection from the wind; and it is not too high so that it would not look good. After getting the unit where I wanted it, I tightened up the Ram Mount and that was it no problems. I put the GPS on the left side so that I could simply plug the DC power adapter into the cigarette lighter on the left side of the fairing if I needed power.
Then I unpacked the friction mount that I ordered, placed it in my car, and adjusted it for perfect viewing.
I then spend lots of time playing with the unit on battery power to see its capabilities and so forth. The Garmin StreetPilot C330 actually does many more things than I actually expected it to do. I played with routes from Los Angeles to New York, etc., and actually simulated driving the route. The Garmin StreetPilot C330 will allow you to do this if you turn off the GPS receiver. This unit is awesome.
Before I used the unit, I went on eBay and purchased a couple of high end screen protectors for the Garmin StreetPilot C330, because I knew that on the motorcycle, the screen would get hit with wind and debris, or my gloves may scratch the screen. I got some protectors that were custom cut for my unit, and also increased the resolution of the screen in sunlight. The screen protector went on with no problem and did not alter or hurt the functionality of the touch screen on the unit.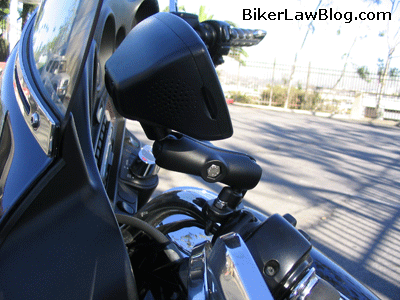 I know many people will probably read this review and say I should have got this GPS or I should have got that GPS, but to be frank, I do not need an MP3 player, a picture viewer, and all of the other things that the expensive GPS units have built in. All I need is a simple unit that will get me from point A to point B all over North America and Canada. The Garmin StreetPilot C330 does exactly that. I was very impressed with the points of interest built in which are supposed to be around 6 million. The local points of interest are pretty much all there. You can also switch cities to pick points of interest and then simply press the Go button to navigate to that point of interest. The Garmin StreetPilot C330 will also allow you to store 500 custom points of interest in the unit as well.
I have used the unit on my motorcycle for well over 1000 miles and in moist conditions and have had no problems with the unit whatsoever. The Garmin StreetPilot C330 uses a cradle for mounting the unite rather than a ball in the back that the new Garmin units use, so it is stable on the motorcycle. The Zumo 550 mentioned above also uses a cradle but it is around 300 bucks more and basically has the same features as the Garmin StreetPilot C330. I was pleasantly surprised to learn that I could hear the voice prompts while on my Harley at highway speeds for the most part. At very high speeds I could still hear the distinctive ring tone that precedes that unit telling you to turn or warning you of a turn coming up, etc. Obviously I will remove the unit from my motorcycle if it starts raining. I have a 3 year walk in replacement warranty anyway so I am not worried about the unit going bad. It looks like it is solid to me, and I have not had any lockup problems like the guys who bought the dedicated and more expensive Zumo 550 have!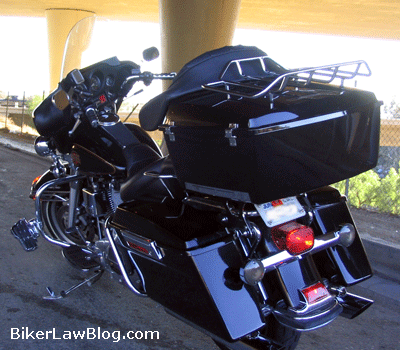 I have also used the unit in my car as well. With the friction mount, it is clip on and play, no problems whatsoever. I have used the unit in battery and plug in power mode. The Garmin StreetPilot C330 really does have about 4 hours plus worth of battery power. I have tested it.
The little Garmin StreetPilot C330 is absolutely incredible. I wish I had this thing on the many trips I have taken on my motorcycle and in my car. It has built in, about 6 million attractions, gas, lodging, hospitals, etc. from all over North America and Canada. If you need gas, you just press a couple of on screen prompts and it will take you to the nearest gas station. If you want the closest hotels or motels from where you are at; press a couple of prompts and you are there.
This little unit even helps for local trips that you think that you know! I was on California Interstate 5 and I wanted to go to Glendale Harley Davidson. I have been to Glendale Harley Davidson probably 50 times or more in the past and knew how to get there. I had my GPS unit set for the quickest route. I hit Go on the GPS unit and it gave me what I thought were totally bizarre and unfamiliar directions. I followed the GPS and got to Glendale Harley Davidson probably about 15 minutes quicker than I would have using the pre-programmed directions in my head. Another neat thing about the Garmin StreetPilot C330 is that if you miss a turn or go the wrong way, it will automatically sense this and recalculate the route for you.
I can say without a doubt that I will never take another trip again without my GPS unit. This thing is absolutely awesome. I am quite sure that the GPS unit will make all of my future motorcycle and car trips much more interesting and enjoyable.
Go out and get yourself one to see what I mean!
By Norman Gregory Fernandez, Esq., © 2007