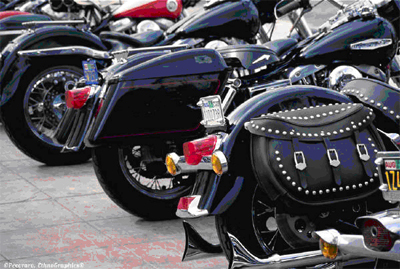 It looks like the loud pipe crackdown is starting to spread across the nation. I have written articles about Malibu, California, and Denver, Colorado cracking down on loud pipes. I have now heard reports from people calling my office that certain cities in the Inland Empire are starting to crack down on loud pipes as well.
I have also heard reports from my brothers in Minnesota, that there is a crackdown happening in certain cities there too.
I will again reiterate my position that loud pipes on motorcycles do save lives, because it forces the cagers to notice you! I have received many comments on the Blog from readers who have differing opinions that mine and that is OK.
Free Speech amongst bikers will not be infringed upon in my Blog.
The bottom line is that the law requires that stock exhaust systems not be modified or tampered with. However, it is absurd that a biker or motorcyclist should have to buy OEM exhaust from the manufacturer of their motorcycles in order to be in compliance with the law. They should have a choice as to what pipes they want to put on! This is a free country right?
We all know that there are guys out there running open pipes and that things can get kind of loud. I guess there needs to be a happy medium otherwise we are all going to be screwed into having to run OEM pipes no matter what.
There are many aftermarket systems out there that come with baffles that will quiet the motorcycle down to a reasonable level.
Where I live it is biker valley. There are more registered motorcycles in the San Fernando Valley, California, than any other geographic location of the same size anywhere in the country. I just saw a guy riding down a street called Devonshire, whose bike was so loud that it really was ridicules. You know it takes a lot for me to say that because I advocate that loud pipes save lives.
Nonetheless it is guys like this that are and will cause the crackdown on all of us.
Imagine if cars were running open headers? I know, when I was a teen, I had a souped up Nova with open headers. I was promptly given a ticket and this was in 1979 or 80. I do not remember the exact year.
So what am I saying; let's keep a happy medium. There is no reason to be running open pipes. You can still have a reasonably loud bike with baffles installed or tuned. Obviously I am not advocating breaking any laws.
For all of you guys with aftermarket pipes, you better do yourself a favor and keep your OEM pipes just in case you get stopped for loud pipes. It is cheaper to just re-install them on your motorcycle if you do get stopped, rather than having to buy a new set.
I kept my OEM's from Harley Davidson and they are in my garage.
By Norman Gregory Fernandez, Esq., © 2007