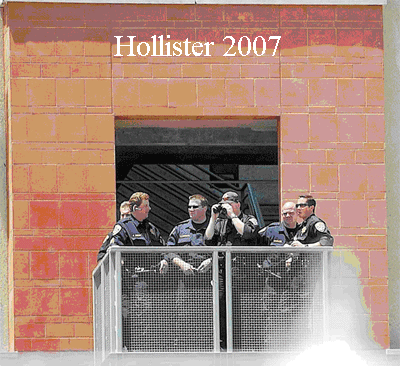 This is not your usual ride report from me. I was unable to ride to the newly revamped Hollister Motorcycle Rally this year; thank god. This ride report is a first hand account of the rally from a very good friend of mine who rode to the rally for the first time, with his old lady.
First off, I have ridden to the Hollister Independence Day Motorcycle Rally for many years, excluding last year when it was cancelled by some very idiotic town leaders. They were idiotic because they probably lost millions of dollars in revenue by cancelling the rally, which is why they brought it back this year.
In the past the rally was an awesome 3 day event. All of the motorcycles were parked on both sides of San Benito Blvd., and in the center, all the way down the main drag. There were the usual vendors, bands kicking ass not only on the drag, but at houses past the commercial part of San Benito Blvd. It was a laid back rally with plenty of partying and fun for all. This has all apparently changed.
It seems the newly revamped rally has turned into a law enforcement nightmare from hell that for me makes the event no longer palatable.
The first hand account that I received from my friend who I will refer to as XYZ here, was given to me today.
When he arrived at the rally with his old lady, (It was his first and last time doing this rally) he found the main drag completely closed off to motorcycles. I have never heard of a motorcycle rally where they close off the main drag to motorcycles. That is like having a tattoo convention closed off to people with tattoos!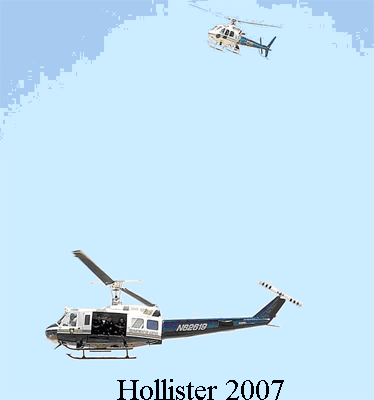 XYZ noted that he has never seen so many law enforcement officers, from so many agencies, all in one place at the same time. He said that many of them seem to be decked out in full combat gear. He said it was bizarre. Furthermore, he stated that the entire time he was at the rally, there were multiple Police helicopters in the sky the entire time. The sound from the helicopters was so bad that you could not even hear one another talking in the street.
He and the other bikers and motorcyclist were directed to parking lots off of the main drag, and onto side streets by what he described as hordes of law enforcement personnel from multiple law enforcement agencies.
Now I am a law abiding guy, as well as XYZ. Neither of us has a criminal record, or anything to worry about from law enforcement. We respect the law, and we both just ride because we are bikers and like to ride our motorcycles.
As XYZ explained to me, he was directed to park along a side street by law enforcement when he arrived. There was an area that was coned off, with a bunch of other motorcycles parked in the coned off area. No big deal, he parked his custom Softail with the other motorcycles.
Within 5 minutes of getting off his motorcycle and walking to the main drag, he was confronted by a law enforcement officer who told him that he had to surrender his 3 and 1/2 inch folding pocket knife. Just so you know, pursuant to California State Law, you are allowed to carry a concealed knife with a blade that is no more than 3 and ½ inches, otherwise the knife has to be carried openly in a sheath and not concealed in any way.
Just for the record XYZ is not in any motorcycle club, and was just wearing a T-Shirt, jeans, and riding boots! He presented as an ordinary biker and motorcyclist.
XYZ knows a thing or two about the law and politely asked the law enforcement officer what law gave him the right to confiscate his pocket knife when he had done nothing wrong. The law enforcement officer told him that a temporary law had been enacted in Hollister for the weekend prohibiting anyone from having any kind of knife.
XYZ knowing that this was a flat out lie, asked the officer to show him any sign that advised the public that a temporary emergency law had been enacted to prohibit anyone from carrying any kind of a knife. The officer then asked XYZ if he was an attorney or something. XYZ said no, but that he knew the law. The officer then changed his tune and said that he would not confiscate his folding pocket knife so long as he did not clip it on the inside of his pocket, and that he must put it all the way in his pocket, and that if any other law enforcement officer approached him during the event, he would have to tell them that he had a pocket knife in his pocket.
My astonishment upon hearing this story was of amazement. I will get into this more later.
Rather than further argue with the officer and potentially risking being arrested or something, XYZ complied with the officers order and put his 3 and ½ pocket knife all the way in his pocket rather than clipping into the inside of his pocket.
XYZ and his old lady then walked the main drag on San Benito, (no motorcycles parked there at all) checked out the vendors, and a local watering hole.
They then decided to split and ride to their hotel which was about 10 miles out of town. When they walked to where they were directed to park by law enforcement, all the bikes that were parked where the cones were laid out were gone and there were no cones.
He was shocked just as anyone would be. He called the Hollister Police Department to find out if his motorcycle was stolen or towed. He was told that his motorcycle was towed and that he would not be able to get it back until Monday morning.
Imagine going to a motorcycle rally, being told to park somewhere by law enforcement, only to be told on a Saturday that your motorcycle had been towed, and there would no way to get it back until Monday morning, especially if your motel was 10 miles away! I could not imagine it.
XYZ and his old lady then walked to the Police Station to see what they could do. They begged, argued, and did everything that they could to get their motorcycle out of the impound lot, while at the Hollister Police Department for 5 hours to no avail. A lady officer told them that they would not even get the necessary paperwork for the impound of his motorcycle until Monday because of the rally, and because they did not have the resources. She was extremely rude. XYZ was told in no uncertain terms that if did not leave he would be arrested for obstruction.
Then to make matters worse XYZ tried to call a cab so that he and his old lady could get back to their hotel, only to hear a recording that there would be no cab service during the rally weekend.
What could they do; they proceeded to start walking the 10 mile distance to the motel. He was wearing motorcycle boots, and she was wearing high heels.
If anyone of you has ever been to Hollister, you have to realize that it is a tiny town in the middle of no where. Literally once you get off of the main drag, there is nothing but farmland and open land. There is nothing there!
They were about two miles out walking on the road, when of all people, a tow truck driver stopped and offered to give them a lift. Apparently the tow truck company made a killing for the town on this weekend. The tow truck driver told them that he had to go tow another motorcycle, and then he would pick them up on the way back, which he did.
They got back to their motel, and were basically stuck waiting until Monday to get the motorcycle out of impound.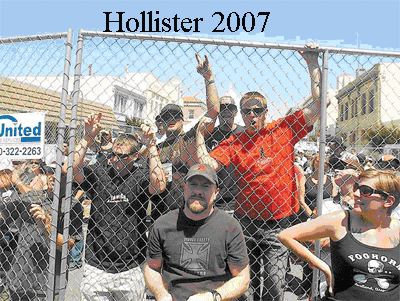 When XYZ got to the impound lot, both of his motorcycle tires were flat, and there was a scratch on his custom paint. He asked the impound people why his tires were flat. He was told that they did not know, but they would probably be OK if he just put some air in them. Sure enough, when he put air in the tires, they were OK. Apparently the impound lot let the air out the tires on purpose. After some discussion XYZ and I figured that they probably let the air out of the tires to make it harder for someone to roll the motorcycle out of the impound lot. With respect to the scratch, it was there and there was not a damm thing he could do about it.
XYZ finally made it home from his nightmare first and last Hollister Independence day rally late Monday night. He missed a day of work because of the BS he was put through in Hollister.
I have been to literally hundreds of rallies in my years; so has XYZ, I have never heard of such a horror story. XYZ was rousted for no other reason than the fact that he is a biker, had his motorcycle towed because he made the mistake of following law enforcements orders on where to park, he had to wait two days to get his motorcycle out of the impound yard, and his custom paint was scratched to boot. XYZ states that he will never ride Hollister again.
My take on Hollister 2007, is that they brought the rally back, and then proceeded to roust and rip-off unsuspecting bikers. The parking and tow thing sounds like some kind of scam to put money into the city coffers. The unprecedented law enforcement turnout was way out of line. Above all, what kind of motorcycle rally prohibits motorcycles from parking on the main drag?
With respect to law enforcement basically lying to XYZ about carrying a pocket knife, all I can say is that this cannot be tolerated whatsoever. I am sure that many unsuspecting bikers gave up legal pocket knives because of the BS they were being told by law enforcement. I myself always carry a legal folder when riding, or doing almost anything. A good pocket knife always seems to come in handy, and they are legal.
We cannot have police officers or the government lying to the public about the law, and their rights. This seems like a worsening trend since Bush II took office. However, I am not going to discuss politics in this article.
Suffices is to say, I am glad that I did not ride Hollister this year, and unless I hear that they have brought back the rally like it used to be, then they will not be seeing me or my money again. I trust XYZ's account of what happened. I am not going to ride 800 miles round trip to be subjected to the same kind of BS that XYZ and his old lady were. When I ride Hollister, I usually stay 20-30 miles out and sometimes more. I can only imagine what BS it would have been if it were me.
This is a true account of Hollister, 2007. No matter what you read to the contrary, this is how it really was this year.
By Norman Gregory Fernandez, Esq., © 2007