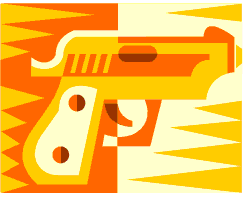 First off, I am not giving legal advice by this article. You should always check with a lawyer in your respective State on the issue of transporting a gun on a motorcycle or in another type of vehicle. If in doubt, call a lawyer!
Generally Bikers and Motorcyclist are allowed by law to transport a Gun on their motorcycle just like people in Cars or Cagers. I do not want to confuse the issue of transporting a gun, and carrying a gun, they are two different things.
Carrying a gun means that you have it on your person. This article does not cover carrying a gun on your person. The purpose of this article is to discuss the legality of transporting a gun on your motorcycle, especially when crossing State Lines.
There are generally two areas of law dealing with transporting guns in vehicles; Federal, and State Law. The vast majority of States will NOT let you transport a loaded gun in any type of vehicle without a permit, and MOST States have certain restrictions that are applicable to transporting guns in vehicles.
Federal Law generally states that; Notwithstanding any other provision of any law or any rule or regulation of a State or any political subdivision thereof, any person who is not otherwise prohibited by this chapter from transporting, shipping, or receiving a firearm shall be entitled to transport a firearm for any lawful purpose from any place where he may lawfully possess and carry such firearm to any other place where he may lawfully possess and carry such firearm if, during such transportation the firearm is unloaded, and neither the firearm nor any ammunition being transported is readily accessible or is directly accessible from the passenger compartment of such transporting vehicle: Provided, That in the case of a vehicle without a compartment separate from the driver's
compartment the firearm or ammunition shall be contained in a locked container other than the glove compartment or console. Code of Federal Regulations Title 18, Part I, Chapter 44, § 926a.
Basically, no State can prohibit all transportation of guns or firearms because it would be violative of Federal Law and the United States Constitution, however States are allowed to regulate how they are transported. A State can also restrict certain classes of persons from carrying or transporting firearms, such as persons convicted of a felony, persons with psychiatric conditions, and so forth.
So how do you legally transport a firearm on a motorcycle, especially if you are crossing State Lines? First off you must legally be able to possess a firearm in any jurisdiction that you are traveling in! It is safe to say that those who have been convicted of felonies, or have restraining orders preventing them from having firearms, already know that they should not be transporting a gun, and that it is probably illegal for them to do so. If you are in doubt, talk to a lawyer from your State or a State in which you are traveling in.
I recommend that if you are going to transport firearms on a motorcycle that you keep the firearm unloaded, and locked in a gun box or portable gun safe. If it is an automatic or semi-automatic weapon do not put any clips in the weapon and keep the breach or slide open if possible, even when it is locked in the box or safe. It if is a revolver, take the cylinder off of the weapon and lock the gun in the box.
With respect to clips and cylinders for your weapon, I recommend keeping them in a separate locked box, and make sure that no bullets or ammunition are in the cylinders or clips.
With respect to ammunition, I recommend keeping all ammunition in a third separate locked box or container.
Now you are thinking; how the hell do I carry all of this on my motorcycle. I recommend that you keep the gun in its locked container in one saddlebag, and the two separate locked boxes for your clips, cylinders, and ammunition in the opposite saddlebag. Now you are probably asking the question; what if I do not have saddlebags? The simple answer is that if you want to transport a firearm on your motorcycle safely without being arrested and going to jail, you better go out and get some, especially if you are traveling across State lines!
Finally there is the issue of security and liability for firearms in your saddlebags. I know that most saddlebags open and close with simple leather buckles. If someone were to open your saddlebags and steal your firearms, ammo, or clips and cylinders, you could be held liable for not adequately securing your weapons and ammo. If you can, get a locking saddlebag such as Leatherlyke's or the hard type of bags that I have on my Harley Davidson Electra Glide. There are also special locking straps on certain types of saddlebags, or you can take your bags to a Shoe Repair or Leather Tailor to custom manufacture a locking strap for your saddlebags.
I know that there are many of you in certain States that are probably thinking; "I don't have to worry about this in my State." If you know the law of your State and you are not going to be traveling or crossing across State lines, than follow the law of your State.
As for me, I regularly ride across State lines, and I always error on the side of caution. The gist of interstate travel with firearms is that you are not supposed to be able to get at the weapon or ammunition so you can shoot someone. Look at the Federal Law above! Many of you are thinking; "what good is it if I cannot get to my firearm in a moments notice?" This is not the point of this article! The point of this article is how to legally transport a gun on your motorcycle.
With respect to the right of all Americans to bear arms for self defense, hunting, target practice, etc. I am a 2nd Amendment man all of the way. Unfortunately in most if not many States, guns are highly regulated.
So if you are going to be traveling across State Lines with firearms on a motorcycle protect yourself.
By Norman Gregory Fernandez, Esq., © 2007