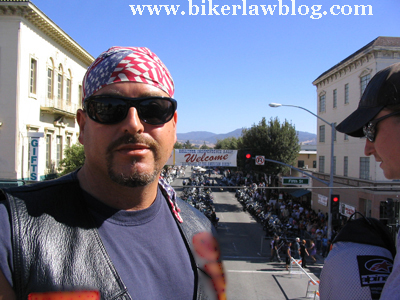 I received the following email from a Biker Law Blog Reader named Patrick. I will let the email speak for itself because it is self explanatory. I have not edited it and it is in Patrick's own words. Here it is……..
I have some information for you. There is a letter out from the EPA dated 7/25/2006. The letter is CISD-06-15 (MC). This is geared to builders of custom bikes where the builder builds 300 units or less. These bikes like Big Bear choppers, Big dog choppers meet all 2007 EPA rules. They have a stamp on the frame that states that they meet all EPA federal laws. I have a friend that built a 2007 EPA compliant chopper. The bike came with a Suppertrapp exhaust that is EPA compliant. The exhaust has no EPA stamp or marker plate. Big Dog chopper's have Vance & Hines Q series exhaust that is EPA compliant, no EPA stamp or marker plate. The bikes I am talking about meet all federal EPA rules, but you can't ride or have them in Denver. That's crazy. Patrick
What Patrick is saying is that there are EPA compliant motorcycles that do not have EPA stamps on the pipes. I think that Patrick may have found a way for the ordinance to be legally challenged as unduly broad. Do we have a Colorado Biker Lawyer who will step up to the plate to challenge this new ordinance in Court?
Thanks for the email Patrick.
By Norman Gregory Fernandez, Esq., © 2007