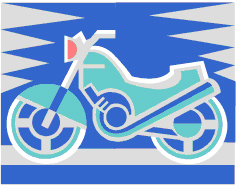 I just read an interesting article on the freedom of motorcycling that was written by a life long biker from the great State of Arkansas name Barry Tudor.
I may not agree with everything that he wrote in his article, but nonetheless, it is a good article and deserves to be read.
I do agree with Barry that bikers should have the freedom of choice on Helmet issues, and that the powerful insurance lobby is doing everything they can to take away our freedom to ride as we choose, and to limit the horsepower on our motorcycles.
As I have stated in many of my articles; it is very hard to articulate in words, what it is like to ride a motorcycle, and to be a biker. The only way to really know is to get on a motorcycle and do some miles on the open road.
Barry's attempt at articulating what it is like to ride Motorcycles and to be a Biker is good. I give his article my thumbs up, and recommend that you read it.
His take on helmet laws, and other attempts to legally limit our ability to be free in the wind also deserves to be read.
Without further ado, you may read Barry's article on the Freedom of Motorcycling by clicking here now.
By Norman Gregory Fernandez, Esq., © 2007