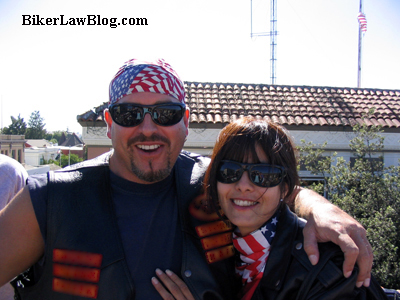 A Biker Law Blog visitor named Randy read my article titled "Helmets and Face Protection; You Decide!" He posted the following question;
"I am looking for a full face DOT helmet. There are so many. How do you know if you are buying a good DOT helmet or one that is not as good as another one? I have seen prices from $ 59.99 to $ 700.00 dollars. I realize that one gets what he pays for but, why the tremendous difference in prices and they are all DOT?
Randy"
I thought that this would make an excellent article because if you do decide to wear a helmet, you want to make sure that the thing is actually going to protect your head. A quick caveat; this article is not in anyway related to your decision to wear a helmet or not, it is about selecting a proper helmet if you decide to wear one. I have already covered this issue in a couple of articles that you can read by clicking here, or by clicking here.
I have found an excellent article on the subject by Art Friedman at Motorcycle Cruiser Magazine that you can read by clicking here now. This is probably the best article that I have seen on the subject. Rather than trying to regurgitate his article in a nutshell, I highly suggest that you actually read the article. Again, you can read his article by clicking here now.
There is a huge point that Art makes in his article; buying the right helmet can often take more time than finding the right motorcycle. I agree. I myself started our wearing no helmet at all in my early days of riding. I then switched to the novelty beanie helmets when California made wearing a helmet mandatory. After doing enough motorcycle cases and seeing my clients really jacked up in motorcycle accidents, I opted to go with a full face helmet. Another reason I went with a full face helmet is that they make certain rides more enjoyable. However, that is not the subject of this article.
I now wear a Modular (Flip Up) Helmet. You can read some reviews of Modular Helmets by Motorcycle Cruiser magazine by clicking here now. As for me, I like the modular helmets because I can flip it up at a Gas Station while getting gas; to take a swig of water or a bite to eat, or to have a smoke. You do not have to remove the helmet to do these things with a modular helmet, and they arguably have the same protection as a full face helmet.
Per Art, the safest helmets are of the full face variety. I must admit, a full face helmet does have less wind noise, and feels more comfortable than my present modular helmet.
I suggest that everyone read Art's article, and take the time to find the right helmet for you. Think about it; you spend tens of thousands of dollars on your motorcycles, customization, and accessories. Is your helmet that contains your brain and your face as important as those aftermarket pipes?
By Norman Gregory Fernandez, Esq., © 2007