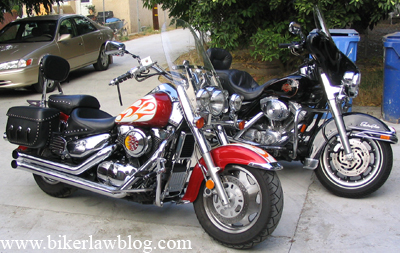 I just read about a truly disgusting accident where a biker was killed after he made a full stop at a signal, and was rear ended by a Van. You can read about the accident by clicking here. The van driver not only killed this guy but he then ran away. He has turned himself in.
The biker that was killed was riding a custom Big Dog Chopper.
The reason I am bringing attention to this one particular accident is to bring a basic motorcycle safety issue to the forefront. We who ride motorcycles are completely open to the elements. Unlike cagers, we have no protection other than what we are wearing.
When you come to a stop at a signal or stop sign, you should always keep your bike in gear, and you should always be watching your mirrors for idiots that do not look like they are going to stop. Unlike in a car where you may not be able to move out of the way, on a motorcycle you can real quickly give it some gas, let the clutch out and move if you have to.
Always leave yourself an out when you are stopped. Plan on some idiot rear ending you and plan your out; Everytime you Stop! Do not be lazy. After a while this process will become second nature.
Now with respect to custom motorcycles and choppers; there are tons of really cool looking aftermarket mirrors, and even stock mirrors. I ask this question; is having a functional dual mirror setup on your motorcycle, more important than looking cool? No way! Don't buy those micro mirrors that are worthless in function. Make sure you have good mirrors on your motorcycle. The stock mirrors on my Harley Davidson Electra Glide are perfect for functionality. Most stock mirrors on the motorcycles that I have owned are perfect. It is the cool looking aftermarket mirrors that in most cases are worthless.
Some of the custom motorcycles that I have seen being produced have mirrors that are basically installed as an afterthought just because the law requires them to be there. I am guilty on this issue too. I have purchased really cool looking aftermarket mirrors that were basically worthless. I have since changed my ways.
You must be able to see behind you on both sides. Your mirrors can save your life.
There is no way of knowing whether the biker killed in the article mentioned above could have gotten out of the way in this instance. The reason I am bringing this article to your attention is to let you know that when you are stopped on a motorcycle, you must be vigilant to protect your life.
Remember, cagers cannot see us like they would if we were in a car. We must act like we are invisible to the cager. If cager's rear end each other, it is ten times worse for us!
Keep Both Wheels on the Road.
By Norman Gregory Fernandez, Esq., © 2007