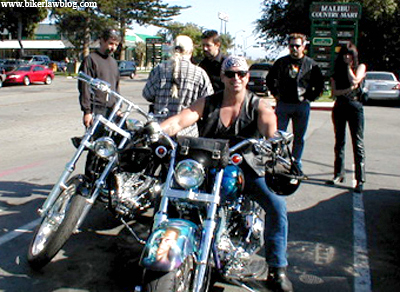 I have recently read newspaper articles, statistics from various governmental entities, and from other sources about motorcycle death rates increasing in States that revoked their mandatory helmet laws. I am not going to post all of the links here. If you search for helmet law debate on Google you will get tons of hits. Read to your hearts content.
This debate as far as I am concerned will never end, especially amongst bikers like me that grew up riding with no helmets.
I feel that the choice should be up to the individual biker. There are valid arguments for wearing helmets and not wearing helmets, but the law should give Americans the freedom of choice. That is my issue with helmet laws.
As I started doing motorcycle accident cases, and have had my own incidents of going down, I made the choice to wear a helmet for my own personal reasons. There is no doubt as to what happens when a human head hits the pavement; the pavement wins everytime. However, I must make an admission; I sometimes still ride with no helmet in States where it is legal, because I love the wind in my hair on the open road. My friends and brothers who have ridden with me on out of State rides know this to be true.
America is about Freedom; being a Biker is about Freedom. Freedom of choice is what makes America great. I say let us decide whether to wear helmets or not.
I know I will probably get many comments on this short article about the pros and cons of riding with helmets.
The purpose of this article is to make a point about personal freedoms, and to advocate the freedom of choice. Can you imagine some lunatic legislators enacting laws requiring Motorcyclist to wear seatbelts?
Where does government intrusion into our personal lives end if we do not stand up for ourselves and make a statement?
How do we make a statement that our government will listen to? Simple; write your congressmen, State legislators, and vote for candidates that advocate freedom.
The trouble with freedom is this; if you let it go, it is very hard to get back!
By Norman Gregory Fernandez, Esq. , © 2007