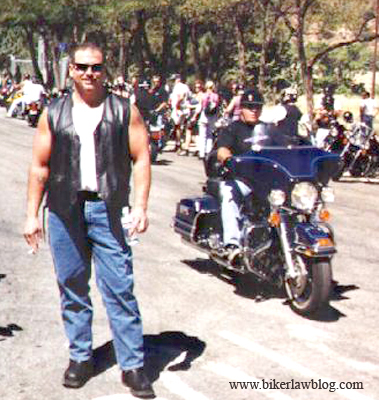 I have been asked by many people what is the difference between a biker lawyer and a normal personal injury lawyer.
The main difference is that a biker lawyer actually rides motorcycles and is a biker himself. A biker lawyer has a unique insight when dealing with motorcycle accident cases that a normal personal injury lawyer does not have. Why, because we also ride motorcycles.
Frankly I know of only 2 other biker lawyers in the State of California that actually ride motorcycles besides me. There may be more; I don't know. I do know of several other lawyers that ride, but they do not do personal injury. I even know of one Judge who rides motorcycles.
What ticks me off is a bunch of normal personal injury lawyers pawning themselves off as biker lawyers. You see them advertising in the biker rags, you may see them at events. Have you ever seen any of them actually riding?
The next time you come across a so-called biker lawyer, why don't you ask him to take a ride with you? The proof is in the pudding so to say.
I am a real biker lawyer. I am a biker and I do personal injury. My practice is not just limited to motorcycle accident cases; I also do car accidents, truck accidents, other motor vehicle accidents, and other torts such as slip and falls, assault and battery, etc. However, my passion is prosecuting injury cases for other bikers. Don't get me wrong; I aggressively prosecute all cases for my clients. If you are the victim of a car accident, I will treat you no differently than any of my other clients.
If you are a biker you have probably heard comments made by cagers such as: "we are the best organ transplant donors;" "we are crazy for riding motorcycles because they are dangerous," etc.
In a personal injury case there is a general bias against bikers and motorcycles amongst potential jury pools. It is my opinion that only a biker lawyer himself can explain to a jury during trial, that bikers and motorcyclist have the same right to share the road as everyone else.
It is much easier for me because I feel what I say. There is no act; I feel a kinship towards my biker clients.
There is a general bias amongst jury pools against bikers and motorcyclist. They automatically think that it is our fault when we get hit by a cager, because we are engaged in a dangerous activity. This bias has to be addressed at trial in Jury Selection, and during the trial.
Bottom line; if you have had a motorcycle accident, get a real biker lawyer. If you are in California, give me a call at 818-584-8831 extension 1, or go to my biker lawyer website by clicking here now.
By Norman Gregory Fernandez, Esq. ,©2007