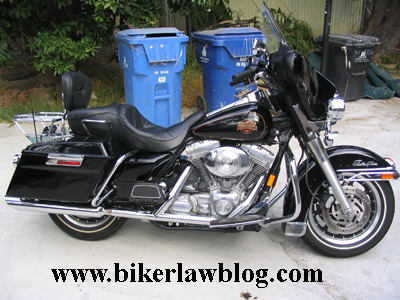 Well, it can happen to anyone, even a biker lawyer! I had just picked up my bike from the Harley dealership (It was in for the Easy Clutch install and other service) on Saturday, and was out cruising solo. I stopped at a Starbucks to get a cup of joe.
I was riding out of the parking lot when some women pulled out in front of me. Same old story; she pulled right in front of me, less than a second to react.
I locked up the brakes and turned my handle bars hard to the right. I missed her by inches, but I could not hold up my Electra Glide and I dropped her on the right side.
Before I dropped the bike I tried like heck to hold her up but she was at a steep angle and was so heavy that I could not hold her up. The damage to the bike was minimal thanks to the Kuryakyn Highway Boards I have mounted on my front engine guard, and the saddle bag guards on the rear.
I can frankly say that the Kuryakyn Highway Boards saved the fairing and front end of the bike. The right side board did suffer some damage and may have to be replaced but it could have been worse. The right saddlebag guard suffered a nick when the bike went down. I got lucky!
As for me, I somehow managed to suffer a tear to my right hamstring muscle and an injury to my right foot, however I was dammed lucky. It could have been worse.
After the incident I was basically still on the bike with my right foot on the ground, and holding the bike with the engine still running trying to lift her back up to no avail. I screamed to a group of people who were standing in front of Starbucks to help me lift the bike back up. I was more worried about the bike than anything else.
When I looked up the woman was gone. No one got her information.
This is the 3rd time that I have gone down over the years. The old saying is that; it's not if you are going to go down, it's a matter of when. In my case I have been very lucky to have only had minor accidents which have not resulted in serious injuries. I have had some very scary close calls!
So the moral to this story at least for me is that I will be very careful in parking lots. You never know when a cager will pop out right in front of you without looking.
By Norman Gregory Fernandez, Esq. © 2006