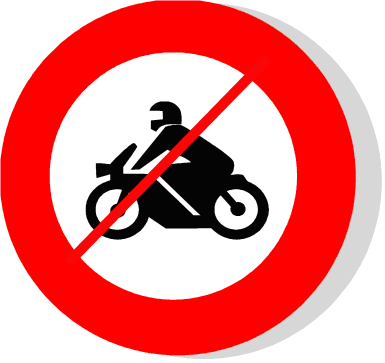 Imagine buying a home in a gated city called Canyon Lake, in Riverside County. You move into your new home with your family; everything is great.
Then imagine jumping on your motorcycle to ride to work, no biggie right? Wrong!
In Canyon Lake, California, which is a gated city consisting of around 4300 single family homes; riding a motorcycle anywhere in the city has been banned by the Homeowners Association.
Yes, you heard me right; you cannot ride a motorcycle anywhere in this city. If you are caught riding a street legal and properly licensed motorcycle in this city you can face fines that start progressively up from $100.00, including possibly losing your home!
I recently read about Canyon Lake in a newspaper article here. The homeowners association will not let you ride your motorcycle to or from your home either.
Bikers must park their motorcycles outside of the city limits or trailer their bike in or out if the don't want to be in violation of the law here.
Recently a group of bikers and their supporters attempted to change the homeowner's association bylaws but failed. They say they will keep trying to change the rules.
I say that the homeowners association of Canyon Lake is Brain Dead! I am stating this as my own personal opinion.
This is an ominous development as far as I am concerned. Who knows, maybe the city of Riverside will outlaw riding motorcycles on city streets next.
Some people may say that since the majority of homeowners voted to ban motorcycles, that it is ok because it is democracy in action. Wrong; our Country and system of justice is set up to protect the rights of the few when the actions of the majority usurp the minorities constitutional rights.
Back in the 1960's there were laws that allowed persons or establishments to discriminate against minorities just because of the color of their skin. The Court system, and eventually the Congress enacted laws to prohibit this type of discrimination.
In the case of Canyon Lake, I recommend that the bikers there get a good lawyer and take appropriate legal action against the city and its discriminatory practices against bikers.
It seems to me that the State of California and the vehicle code take precedence over the Brain Dead majority of Canyon Lake. It seems to me that so long as the State allows Motorcycles to legally ride on City Streets, that State law would take priority over Canyon Lake Law. I know that Canyon Lake will argue that they are a private city, bla bla bla. However, they are a quasi city for purposes of the law.
I sure would like to see how a lawsuit would pan out against Canyon Lake and their ban on motorcycles.
One thing is sure, I will never go there, I will never spend my money there, and I do not recommend that other bikers do so either. I feel sorry for the poor SOB's that bought homes there. They cannot even ride their motorcycles home.
By Norman Gregory Fernandez, Esq. , Copyright 2006