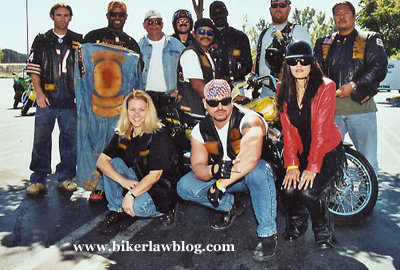 As you know, we bikers tend to wear leather jackets and clothing which might be objectionable to some people in our society. Furthermore, some bikers are members of motorcycle clubs. Members of motorcycle clubs sometimes if not always wear their club patch on the back of their jacket or their vest when they are out riding.
It has been reported to me that some establishments and even public venues are discriminating against bikers because of the way they dress, and/or because they are wearing motorcycle club patches.
This type of discrimination against bikers, and motorcycle club members is for the most part illegal in the state of California.
The Unruh Civil Rights Act (CC §51 et seq.) provides that in part that: "All persons within the jurisdiction of this state are free and equal, and no matter what their sex, race, color, religion, ancestry, national origin or blindness or other physical disability are entitled to the full and equal accommodations, advantages, facilities, privileges or services in all business establishments of every kind whatsoever." Any person whose exercise or enjoyment of rights secured by the Constitution or laws of the United States has been interfered with, or attempted to be interfered with may institute and prosecute a civil action for injunctive and other appropriate equitable relief, including the award of compensatory monetary damages.

The Supreme Court ruled in the case of Cohen V. California, 403 US 15 (1971) that individuals have the constitutional right under the First Amendment to wear clothing which displays writing or designs. In addition, the right of an individual to freedom of association has long been recognized and protected by the United States Supreme Court Thus, a person's right to wear the clothing of his choice, as well as his right to belong to any club or organization of his choice, is constitutionally protected. Persons or establishments who discriminate on the basis of clothing or club membership are subject to a lawsuit by the person who was wrongly discriminated against by such persons.
Although restaurants and similar types of establishments are allowed to enact uniform dress codes for their establishment, they are not allowed to arbitrarily discriminate against bikers, or motorcycle club members, just because they don't like the way they are dressed.
For instance, let's say that a restaurant has a rule that requires all persons to wear shirts and shoes, and that "they can refuse to provide service to anyone." Let's say that a motorcycle club member walks into the restaurant wearing his club patch, and motorcycle boots. If the restaurant refuses to provide service to this person just because he is wearing his clubs patch and for no other reason, this would be a violation of the law, notwithstanding the fact that they have stated that they can refuse to provide service to anyone.
The Unruh Civil Rights Act specifically prohibits this type of discrimination. Furthermore, the case law on point specifically prohibits this type of discrimination. Owners of establishments, or venues, cannot just arbitrarily discriminate because they don't like what someone is wearing. If an establishment does have a dress code, they must enforce the dress code uniformly so that it is applicable to all, and so that it is not enforced in a discriminatory manner.
If you feel that you have been the victim of discrimination based upon the fact that you were a biker, or because of your motorcycle club patch, I strongly suggest that you consult with a civil rights attorney, and initiate legal action.
By Norman Gregory Fernandez, ESQ. , Copyright 2006