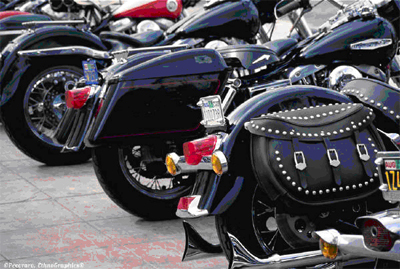 American iron magazine has on its website, various articles in Adobe PDF format about the new EPA Emission Guidlines. You can check out these articles by clicking here.
The gist of the new regulations are that all motorcycles must meet certain emissions standards. Furthermore, it limits individuals to be able to build only one custom motorcycle in their lifetime "whether they own it or not!"
The new regulations will make it very difficult if not impossible for small motorcycle manufacturers to be able to compete and/or stay in business because of the stringent regulations. Moreover, it severely restricts an individual's right to be able to build and own custom motorcycles. Further it severely restricts your right to put custom pipes on your motorcycles.
There have been laws on the books for almost 20 years which prevent motorcyclists from "tampering" with the stock pipes on their motorcycles. As we all know, these laws for the most part have either been not enforced, or were largely ignored by law enforcement. I have heard of isolated individual cases, where bikers have been stopped by police agencies, and issued fix it tickets for loud pipes.
What do these new regulations mean to you? It is hard to tell at this time. The new laws will impose fines on motorcycle shops that install aftermarket pipes of $10,000 per occurrence. It looks like things are about to change in a big way for all bikers with respect to their motorcycles.
If you do decide to put custom pipes on your motorcycles, make sure you keep the stock pipes for your motorcycles, just in case you are issued a fix it ticket. Who wants to pay $1,000.00 or more to repurchase stock pipes for your motorcycles in case you have to revert back to stock?
My personal opinion with respect to the new regulations is outright dismay and disgust. I personally feel that the way the new regulations are written, you'll basically have to stick with a stock motorcycle engine and pipes, or be in violation of the law. Furthermore, the new regulations will put many businesses out of business, and many workers on the streets.
Moreover, it opens the way for the federal government to mandate mandatory emissions testing on motorcycles, just like cars. The new regulations appear to be more about back end taxes (through costs for testing, fines and tickets) on motorcycle shops and riders, rather than a real attempt to clean up the air.
By Norman Gregory Fernandez, ESQ. , Copyright 2006.