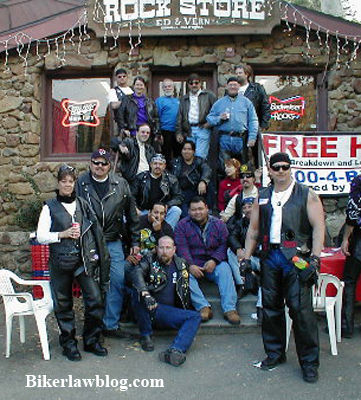 If you live in Southern California and you are a biker, than you know about the Rock Store in the Santa Monica Mountains. If you don't know about the Rock Store than you are either a newbie or an out of towner. Either way, it's a ride you are going to want to take.
A ride to the Rock Store is a staple amongst California bikers! The Rock Store has been continuously owned by a couple named ED and Vern since the 1961. It is basically a very famous Biker hangout. In the past famous people like James Dean, Steve McQueen and others were regular visitors. Now you will see the likes of Jay Leno and other celebrities. You will see the who's who of the motorcycle world at the Rock Store.
I always say that "It's not the destination that matters when you are riding your motorcycle; it's the ride that counts!" A "Rock Store" ride is a great ride on any given day.
Yes, the Rock Store has music, food, booze, and a gift shop, right in the middle of the Santa Monica Mountains. However, the Rock Store is more than that. It is a hangout for riders of all types of motorcycles. You will literally see the latest and greatest motorcycles, and even the most vintage motorcycles there on any given weekend. It's cool to hangout and see all of the scoots.
I love riding to the Rock Store because the ride itself is never boring. There are literally 100's of ways to get to the one road that it is located on. My favorite route in is to go north on Topanga Canyon Blvd., to Mulholland Highway, then take all of the twisties and straightways to get there. Click here to go to their website.
When I am stressed, or I just want to take a ride, the Rock Store is one of my favorite destinations. I have done this ride literally 100's of times and it never gets boring. I have lead groups with 100 motorcycles on this ride, and I have done the ride alone many times.
The best day to go to the Rock Store is on Sunday, especially before noon. The place is usually packed, but that is half the fun of it. The bikers rule Mulholland Highway on Sunday. Check it out!
By Norman Gregory Fernandez, Esq. ,Copyright 2006