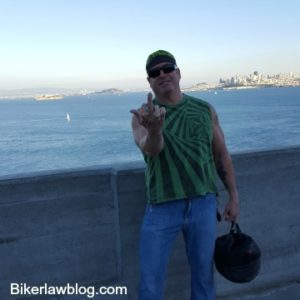 I have been a motorcycle accident attorney for over 21 years. I have been riding motorcycles since I was a teenager, for over 40 years. I am an expert in all aspects of motorcycle riding, and motorcycle accident cases.
Recently, it seems like every generic personal injury attorney in California advertises that they are motorcycle accident experts. They are misrepresenting themselves.
Most of these guys don't even know how to get a motorcycle into first gear, let alone the dynamics related to riding a motorcycle on the street, as it relates to who's at fault in a motorcycle accident case.
First of all, forget the fancy advertisements. If you're in a motorcycle accident you will want to go with an expert motorcycle accident attorney. If you Google motorcycle accident lawyer everybody and their mother will pop up. I would venture to guess that 99% of the people that pop up have never ridden a motorcycle, nor do not know the first thing about the dynamics of riding a motorcycle in traffic as it relates to accident causation in a motorcycle accident case.
There are 3 main law firms that advertise in all the motorcycle magazines, and at all the motorcycle rallies. I know most of these firms personally. Without naming names, one firm is basically an advertising mechanism, and they sell franchises to regular law firms on a territorial basis. Another other major player takes calls in, and then refers cases out for a fee to regular law firms all over the country. When a case settles, or there is a judgment, the attorney then pays a referral fee to this major firm that advertises. The other main player founded a group for clubs, etc., but none of their main attorneys who I personally know, ride motorcycles. In other words, all of these major players that you see advertising, are for the most part marketing scams, and do not have real motorcycle attorneys handling the cases.
I have been told that I am the top motorcycle and biker lawyer in the country by many people. I will tell you what, I will let my work speak for itself. If you retain me you will see for yourself.
There is a saying, let the buyer beware. I have many clients who come to me from these so-called major players. They all tell me the same thing, they never got to really speak to an attorney, and they never really got personal attention. The people that they spoke to had no idea how to ride a motorcycle. They felt like you were not getting good service.
I will tell you without a doubt, in my opinion if you are in a motorcycle accident the last attorney you want to hire is from one of these major advertising motorcycle law firms. I am sure they have some competent attorneys working with them, but they are no motorcycle riding experts.
If you're in a motorcycle accident in California, give me a call, I will take care of you. With over forty years of riding experience, and over twenty-one years of experience as an attorney at law, I will get you the best possible outcome in your motorcycle case. No attorney can make any guarantees as to the outcome of any legal matter, but I can assure you that I will utilize my expertise for you to get you the best result.
I will work to get your motorcycle fixed, or to get you compensated for a totaled motorcycle. I will work to get all your out-of-pocket expenses reimbursed such as loss of use your motorcycle, lost wages, travel to and from the doctor, medical bills, plus I will work to get you compensation for pain and suffering, loss of enjoyment of life, emotional distress, etc.
I will get you medical treatment even if you do not have medical insurance. I can also help you get a cash advance on your case if you have no money.
Most motorcycle riders who are injured in a motorcycle accident case simply want to heal, get their motorcycle fixed, and not worry about anything else. If you retain me to handle your motorcycle case, I will take care of the case, all you need to do is just get better.
Give me a call now at one 800-816-1529, ext. 1.
Norman Gregory Fernandez, Esq., California motorcycle accident attorney